Iron Ore Beneficiation Plant Equipment For Mining Process
Iron ore is an essential iron-making material with a wide application. The iron ore processing plant usually adopts the magnetic separation method. The iron ore magnetic separation production line consists of iron ore beneficiation equipment, including crushing equipment, screening equipment, grinding and grading equipment, magnetic separation equipment, etc. The composition of this equipment is conducive to deeper processing of iron ore, good purification effect, and better improvement of mineral economic value. Let's take a look at what equipment is for iron ore processing.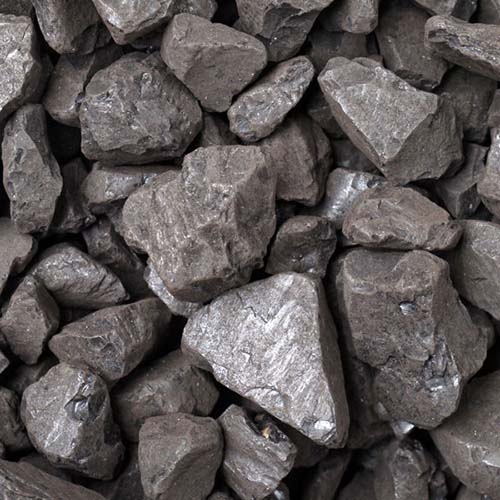 Iron Ore Processing Equipment
Generally speaking, iron ore processing plants mainly include the selection stage, separation stage, concentrate, and tailings dewatering stage. So what beneficiation equipment is for iron ore processing at different processing stages?
Iron ore pre-treatment equipment
The pre-treatment stage of iron ore mainly includes crushing, screening, grinding, and grading processes.
Crushing and screening: The raw ore is sent to the crusher by the vibrating feeder, and the crushed product enters the screening machine. The materials on the screening return to the crusher for further crushing, and the materials under the screening go to the grinding stage by a belt conveyor. The crushing equipment mainly includes jaw crushers, impact crushers, hammer crushers, cone crushers, etc.
Grinding Classification: The grinding classification process for iron ore generally adopts two-stage grinding operations, usually using dry ball mills (large beneficiation plants) or the grid ball mill and wet mill overflow ball mills. After grinding, it requires grading. The overflow product enters the grading process and the remaining product returns to the ball mill for further grinding. The equipment includes beneficiation ball mills and energy-saving ball mills.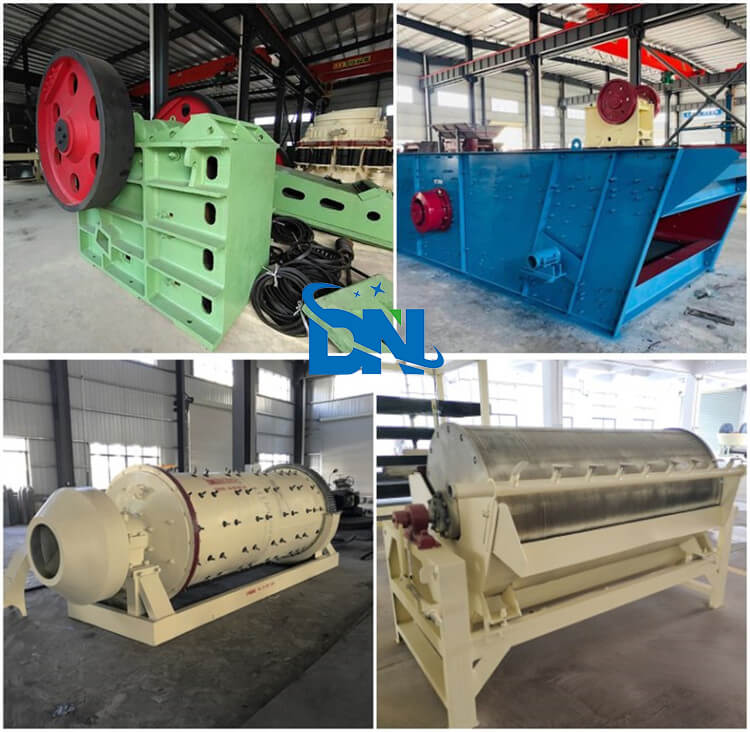 Iron ore separation equipment
According to the nature of iron ore, its beneficiation technology divides into flotation separation, magnetic separation, and gravity separation.  
Iron ore flotation equipment
According to the different surface properties of minerals, iron ore is improved by adding chemical substances to the minerals and separated by flotation methods. There are options such as positive flotation and reverse flotation. Anion collectors are for the flotation of iron ore from raw ore. Flotation of gangue minerals from raw ore using anionic or cationic collectors.
The main ones include the SF flotation machine, JJF flotation machine, BF flotation machine, KYF flotation machine, XCF flotation machine, etc. We should choose appropriate flotation equipment based on the nature of the ore.
Iron ore magnetic separation equipment
Iron ore magnetic separation divides into weak-magnetic selection and strong-magnetic selection based on the magnetic differences of minerals. Weak-magnetic separation machines combine with strong-magnetic separation machines. First, select iron ore by a weak-magnetic separation machine, tailings scan through strong magnetism, and coarse and fine ores are separated through strong magnetism. This process is mainly applicable to mixed ores of magnetism and iron ore. Strong magnetic separation combined with flotation processing. After strong magnetic selection, the coarse and fine ores enter the ball mill for fine grinding and then enter the flotation machine to obtain the iron ore. This method is suitable for processing quartz, feldspar, and hematite containing gangue minerals, such as chlorite.
It includes permanent magnet drum magnetic separators, high gradient magnetic separators, rotating magnetic field dry separators, etc.
Permanent magnet cylindrical magnetic separator: It is suitable for pre-selection, rough selection, and concentrate selection. The selected particle size range is 2-10mm;
High gradient magnetic separator: mainly used for high-intensity magnetic separation operations. Suitable for processing 2mm fine-grained hematite;
Dry magnetic separator: It is a pre-classifier for grinding iron powder to recover iron from waste steel slag.
       3. Iron ore gravity-separation equipment
Select a gravity-separating machine based on the particle size of the iron ore. There are fixture gravity separation, vibrating screen separation, and chute separation. The beneficiation equipment includes a jig separator, vibrating screens, and spiral chutes.
Jig machine: processing 30 (2)~0.5mm coarse iron ore;
Shaking table: separating 2~0.037mm fine iron ore particles;
Spiral chute: processing 0.1-0.37mm iron ore with low mud content.
       4. Iron ore dewatering equipment
The iron ore mine dewatering operation divides into two parts: concentrate mine dewatering and tailings mine dewatering. The specific dehydration requirements will determined based on the actual needs of the factory. Among them, iron ore concentrate dehydration is concentrating the separated iron ore concentrate in a concentrator, reaching a certain dehydration rate, and entering the filter to continue dehydration. Grind the obtained filter cake into iron ore concentrate. The method for dewatering iron ore tailings is a tailings dry drainage system. It mainly uses various dehydration equipment for dehydration, reducing water content, and sending it to the tailings warehouse for storage.
The dehydration equipment includes a thickener, high-frequency dewatering screen, filter press, vacuum filter, etc.
Cyclone separator: It is for slurry concentration operations, with a low flow concentration range of 60-70%;
Thickener: It is for primary or secondary dehydration, with a low flow concentration range of 50-60%;
High-frequency dewatering screen: Generally, it is a three-level dehydration operation, and the final water content of the product is 12-15%
Filter press/filter: dehydration equipment used in the final dehydration stage for processing product with 9-12% moisture content.
80-100 TPH Iron Rock Ore Processing Plant Case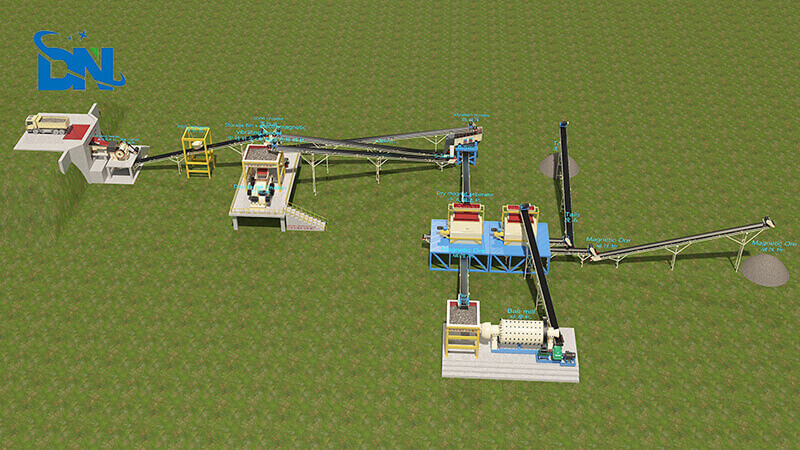 It is an 80-100 tph iron ore processing plant. The complete plant consists of the below machines: vibrating feeder, jaw crusher, belt conveyor, cone crusher, double roller crusher, vibrating screen, dry magnetic separators, and ball mill.
Raw ore information as below:
Iron rock ore, magnetite Fe3 O4.
Rock after crushing to 5mm for release inside the iron.
Processing capacity: 80-100 tph.
Require for dry process.
Flowchart explanation:
The dump truck feeds raw ore to the hopper, then to the vibrating feeder.
The vibrating feeder evenly feeds to a jaw crusher to crush the big rocks to medium size around 100mm.
Jaw crusher output is sent to the cone crusher via belt conveyor.
The cone crusher crushes the rock to around 30mm.
Cone crusher output is sent to a vibrating screen by a belt conveyor. The vibrating screen is a set of 2-layer screens with 5mm and 30mm mesh sizes.
Over screen, more than 30mm material go back to the cone crusher for re-crushing via belt conveyor.
5-30mm material are sent to a double roller crusher by a belt conveyor and crushes ore to 0-5mm.
Double roller crusher output is sent to the vibrating screen.
Under screen 0-5 mm material is sent to the first set of dry magnetic separators. Magnetic separator concentrating iron.
Iron concentrate from the first magnetic separator goes to the ball mill for grinding to 0-1mm.
Output from the ball mill goes to the second set of dry magnetic separators for the separation of iron and waste sand again, which will upgrade the purity of iron.
Iron concentrates from the second set of dry magnetic separators go to the concentrate stockpile.
Tailings from the first and second dry magnetic separators go to the tail pile.
In the face of different material properties, choosing corresponding process flows and using various beneficiation equipment will ensure ideal results to achieve maximum benefits. Eastman is a professional mining equipment manufacturer with rich experiences in the mining construction industry. Welcome to consult our experienced engineers to get factory prices. According to your situation and requirements, we will design a complete mining production line flow chart and provide an accurate quotation.