Our customers are investors from 160 countries and regions over the world. They are professional in quarry, aggregate, ore processing, industrial milling or green building materials. Their commercial stories and operation managements help more people know and dedicate to this industry……
Aggretage Crushing Plant and Processing
Aggretage crushing plant is used for stone crushing, ore crushing, and concrete building crushing,etc. There are three types of crushing plants, stationary, mobile or semi-stationary. The involved equipment of aggretage crushing plant: vibrating feeder, jaw crusher, impact crusher, cone crusher, hammer crusher, sand making machine, VSI crusher, and belt conveyor.
Crushing plant process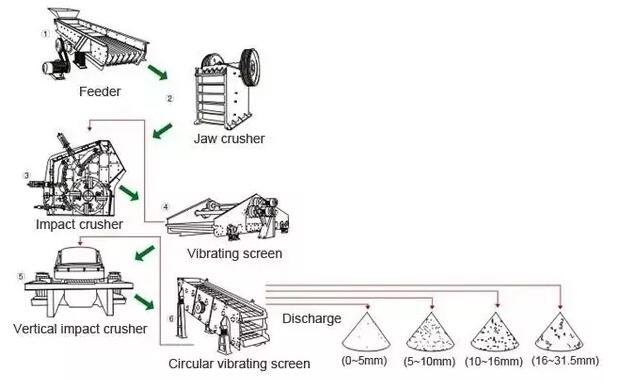 1. Vibrating feeder evenly and gradually raw materials transported into jaw crusher machine for primary crushing.
2. If the crushed stone materials need to secondary or tertiary crushing, it needs impact crusher or cone crusher for crushing again.
3. Then the final crushed stone materials are conveyed to vibrating screen to screened.
4. After screening, qualified stone materials are the final products, while unqualified stone materials will be conveyed back to crusher equipment for crushing again.
Artificial Sand Making Process
Methods of sand making includes wet sand making, dry sand making. Completed of artificial sand making plant component of jaw crusher, sand making machine, sand washing machine, vibrating feeder, vibrating screen, and conveyor.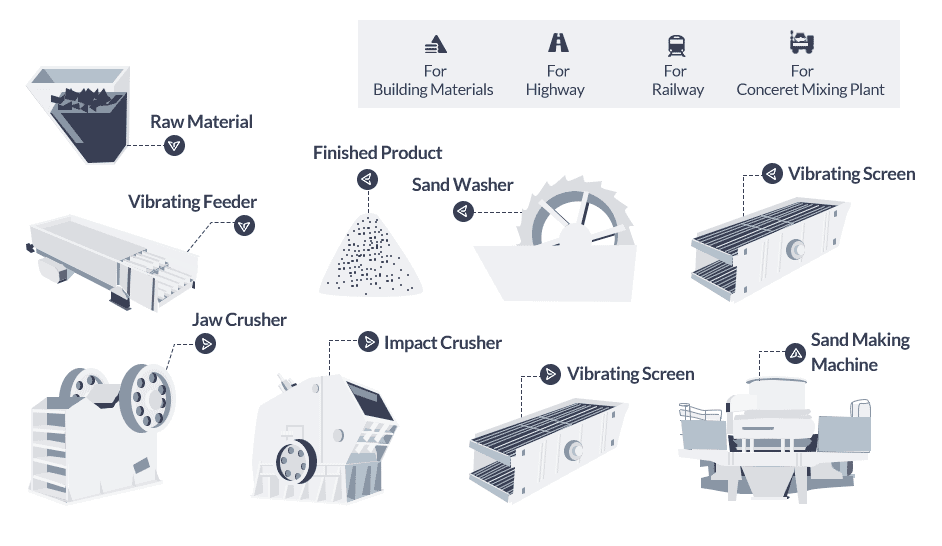 1. Jaw crusher for coarse crushing.
2. Sand making machine for fine crushing.
3. Sand washing machine for cleaning artificial sand.
4. Vibrating feeder, screen equipment, belt conveyor are accessory equipment.