In the production of artificial sand, or processing natural sand, sand washing machines are widely used. Those washing equipment help wash and separate the soil or other impurities in sand (artificial sand, natural sand) and gravel aggregate.
The sand after being cleaned by the sand washer will get a  more cleaner and pretty looks and achieve a better quality, that's make the sand reach the quality request and help sold with a higher price in the market, so the sand washer has gradually become an important equipment of the artificial sand production line.
Eastman produces all kinds of sand washers in the market. Include the Wheel Sand Washer and Spiral Sand Washer.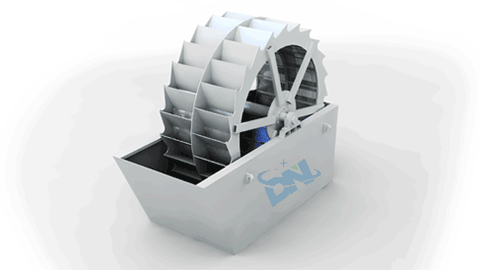 Wheel Sand washing machine
Capacity: 15TPH-200TPH
Feeding Size: ≤10 mm
Suitable for: Pebble, Granite, Basale, Iron ore, Limestone and more.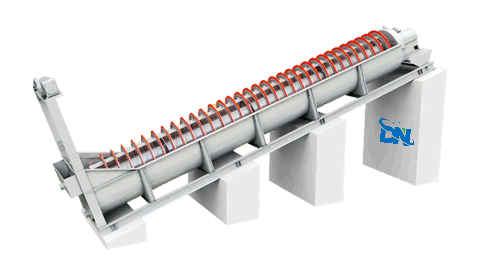 Spiral Sand washing machine
Capacity: 70TPH-350TPH
Feeding Size: ≤10 mm
Water Consumption: 9-280m³/h
Suitable for: Pebble, Granite, Quartz, Limestone and more.
When sand washing machine working, the impellors run slowly with the sand washer motor after decelerated by the decelerator, gears wheel and belt. The sand and stone flow into washing tank from feeding launder grinds with each other and rolls with the impellor slowly, the impurities covered in sand is washing out.
At the same time, the washing water will take some wastes and impurities away from washing tank also. The washed sand and stone is lifted up by impellor. When it rolls up slowly, the water begins to drop through the meshes and fall back in the washing tank, the water can be fully used. Finally, the clean sand and stone goes out of the washing tank and the washing process is over.
The use of hyrocyclones in sand washing machines is the most efficiency method for sand washing process, because it lets to recovery sand without losing fines.
When working, the waste water pruduced during the washing process is extracted by slurry pump, and feeding into hydrocyclone, then the 0.074-3mm fine sand will be recycled in the cyclone.
Coarse sand (3-10mm) and fine sand (0.074-3mm) are feed onto polyurathane screen panels for dewatering, after dewatering process the water content is in 8-12% and those sands can be conveyed, piled up or transported.
Higher sand quality, lower moisture content.
Recycled fine size 0.16-3mm sand, lower mud content.
Compact structure, multiple functions, easy install, convenient maintenance, small occupation area.
High capacity, after this sand washer 95% sand can be washed.
Solve sedimentation tank cleaning problem, higher economical profit.
The sand washing machines whose transmission gear is separated from water and sand in order to reduce the failure.
What about your machines' capacities?
Our washing machine has powerful washing capabilities:
Typically, our wheel sand washing machine has a capacity of 15-200 tph, and our spiral sand washing machine has a more powerful washing ability with a capacity of 70-350 tph.
What's more, you can contact our engineer to get fully customized with the number of impellers or screws and the length to increase the max capacity.
What's the difference between wheel and spiral type?
From the actual production situation, Spiral sand washer has a more powerful washing ability, which can wash larger gravel with serious mud impurities effectively . So, it is often equipped in large-scale sand production lines.
The wheel washing machine's capacity is generally less than 80 tons, so it is suitable for sand production lines with small and medium capacity.
What's your machine's sandstone loss rate and cleanliness?
For our wheel-type sand washer, our data shows the loss of fine sand and stone powder is small, and the water consumption during sand washing is less. And our strict test shows the gradation and fineness modulus of the washed sand can meet the standard requirements;
Compared with wheel sand washers, spiral sand washers lose more fine sand during cleaning, and our experimental data also proves that the sand cleaned by spiral sand washer is more clean.
How to choose the type of sand washing machine?
According to our market research, wheel type sand washing machines are more widely used in actual production.
However, when choosing sand washers, users should consider the composition of sand and gravel, expected production capacity, factory site conditions and other factors, and choose the most suitable machines for their requirements.
Do you provide single and double impeller\screw options?
Yes, our sand maker is fully customizable. Our customers can freely choose to increase the number of washing wheels according to the conditions of sand and gravel.
What's more, If the clay content of sand and gravel is high or the output need to be increased, our spiral sand washer can also increase the length of the auger shaft or use double helix side by side, also it can also be divided into single screw sand washer and double screw sand washer. You can contact us for a full customize for your situations.
What about the price of your sand washing machines?
Eastman's Wheel type sand washer is relatively cheaper, it was designed to be an economic type of efficient sand washer, and its operation cost is also low.
While the price of spiral sand washer is relatively higher, which belongs to the type of high-grade and Large-output sand washer. And the detail price can vary from your customized, so please contact our sales for more information.