Granite Crushing And Screening Production Line
The granite crusher is a general designation of mining crushing machinery for processing granite. Granite is the second hard stone after diamonds, which is more difficult to break than crushing river pebbles, limestone, and marble. Therefore, it is necessary to choose high-quality crushing equipment to achieve the ideal product crushing particle size. Granite has a dense texture, high strength, resistance to weathering, corrosion, wear resistance, and low water absorption. Its beautiful color will be preserved for a long time, making it a good construction material. Due to the abundant resources, low mining costs, and high product value of granite, more and more people are joining this business.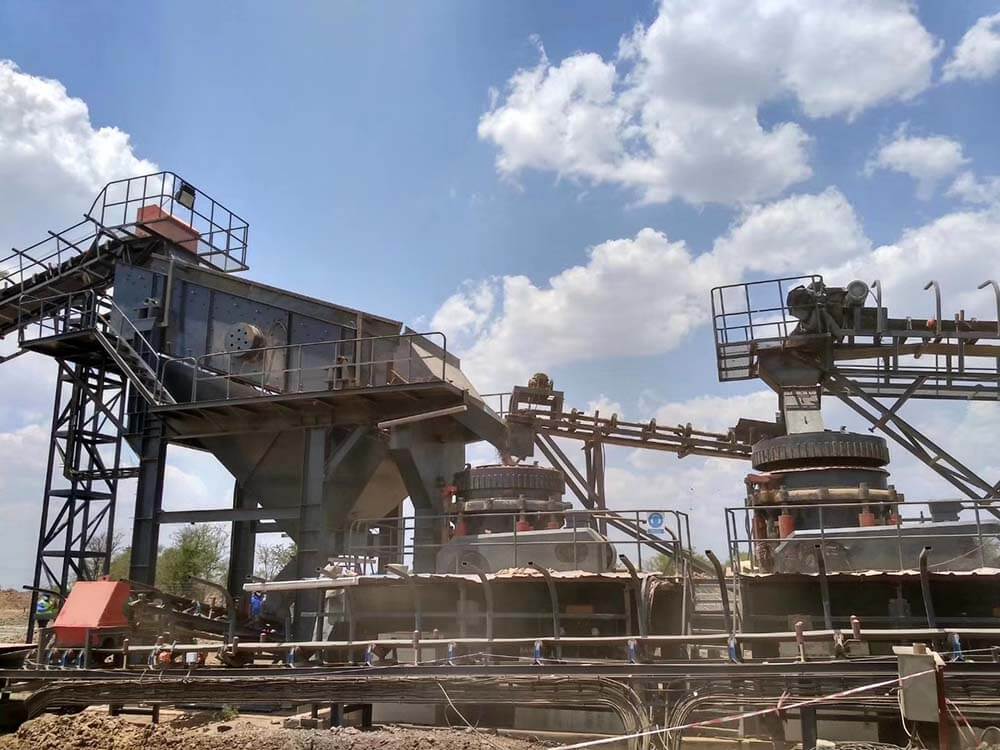 Advantages of granite sand making:
It has high compressive strength, low crushing value, wear resistance, low water absorption, weak conductivity, strong corrosion resistance, and strong asphalt adhesion. It is widely known as a cornerstone suitable for railway and road transportation.
It has excellent compressive performance, bending resistance, and wear resistance. It is a good building decoration material with low water absorption and is widely known as outdoor stone, landscape construction, and floor paving stone.
Granite sand and stone mixed with the concrete to reduce its weight, make it sturdy and durable and provide sound insulation and heat insulation.
Granite Crushing Processing Equipment
The crushing equipment for granite mainly includes jaw crushers, cone crushers, impact crushers, sand-making machines, etc.
1. Jaw crusher – granite coarse crushing equipment
The jaw crusher is a primary crusher for granite, with a simple structural design, small volume, convenient installation and operation, flexible use, low investment cost, high crushing efficiency, large crushing ratio, high production capacity, and low power consumption. 
It has good application value, excellent wear-resistant ability and impact resistance, and flexible adaptability. The operation process is safer and more reliable, with a low failure rate. It is an ideal coarse crushing equipment for crushing granite in the market.
2. Cone crusher – granite crushing equipment for fine material
Single cylinder cone crusher: feeding particle size ≤ 560mm, production capacity 36-2181t/h, widely used in medium crushing, fine crushing, and ultra-fine crushing operations. Large production capacity and high crushing efficiency; Adopting laminated crushing to produce good particle size; Multiple cavity types combined with suitable stroke to meet various particle size requirements; The structure is simple and easy to maintain.
Multi-cylinder hydraulic cone crusher: feeding particle size ≤ 326mm, processing capacity 72-1100t/h. A new type of cone crusher suitable for crushing hard materials and with strict requirements for product particle size. It adopts a fully hydraulic protection and adjustment device, saving labor and time, adopting laminated crushing with a high utilization rate, safe and reliable, and remote real-time control.
Fully hydraulic cone crusher: feeding particle size ≤ 314mm, processing capacity 36-1814t/h. The structure is energy-efficient, highly automated, easy to operate, and has a low failure rate.
Compound cone crusher: feeding particle size ≤ 314mm, processing capacity 27-1814t/h. There are standard type and short head type cone crushers, standard type for coarse and medium crushing, and short head type for medium and fine crushing. It is convenient and fast crushing, with a low failure rate and long service life.
Spring cone crusher: feeding particle size ≤ 300mm, processing capacity 12-700t/h. Suitable for crushing various ores and rocks with medium to high hardness. High performance, low cost, easy to operate and maintain, safe and reliable operation.
Various cone crushers are in the market, arranged in order of technical content: single-cylinder hydraulic type> multi-cylinder hydraulic type>composite type>spring type. Generally, the price of cone crushers is higher than that of jaw crushers, and the investment in technology, labor, and other aspects will vary depending on the technical content. Under the same quality situation, the higher the technical content, the higher the cost, and the more expensive the price is. At the same time, the performance characteristics will also be more significant, Better usage effect.
4. Sand-making machine – granite sand-making equipment
The sand-making machine is essential equipment for the granite sand-making process, also known as the ultra-fine crushing crusher. Taking the VSI sand-making machine as an example, this sand-making machine achieves a perfect combination of sand-making technology and mechanical manufacturing.
It has the advantages of high automation, advanced structure, simple operation, multi-purpose function, high efficiency, low consumption, durability, and green environmental protection. Moreover, the granite machine sand is of better quality and reasonable grading, which meets higher standards of sand requirements.
5. Vibrating Screen – Granite Screening Equipment
The vibrating screen is divided into circular vibrating screen and linear vibrating screen.
 It is an efficient screening method for crushed granite particles, with a simple structure, high screening efficiency, long service life of the screen, no blockage, low operating noise, convenient operation and maintenance, and excellent screening effect.
Two types of crushing lines for granite aggregates
(1) Fixed aggregate crushing plant
Equipment included a jaw crusher, a cone crusher, and an impact sand-making machine.
Production details: The jaw crusher has a deep crushing chamber, a large crushing mouth, strong processing capacity, and an hourly output of 45-1510 t/h. The stones after the jaw crusher crushing go to the cone crusher for further crushing. At this point, the processed stone has a good shape particle size, which is suitable for direct sale or going to an impact sand-making machine for processing. The finished product processed by the impact sand-making machine usually meets the requirements for building sand.
(2) Mobile aggregate crushing plant
Equipment includes a mobile jaw crusher+mobile cone crusher+mobile sand-making machine.
Production details: A mobile sand and gravel production line, also known as a mobile crusher, is similar to a fixed production line, but it has its unique advantages. On the production line, there is no need for foundation laying for flexible operation, flexible and free transfer, and no need to install and fix the infrastructure of the production line, reducing the consumption of materials and labor hours. The compact spatial layout reduces the requirements for site conditions, making the transfer flexible and convenient. The mobile crusher with good mobility has a high chassis and a small turning radius. This design is suitable for ordinary road driving, more convenient for driving on rugged and harsh roads, and saves time for entering fragmented sites.
Advantages of granite sand production line:
The complete set of equipment has a compact layout, scientific and reasonable design, and advanced technology.
Energy saving and consumption reduction, no discharge of three wastes, stable operation, reliable operation, and convenient maintenance.
Low operating cost, high crushing ratio, high production efficiency, large processing capacity, and low pollution.
This type of product has the characteristics of uniform particle size, simple structure, reliable operation, easy maintenance, and low operating costs.
300tph Granite Crushing Plant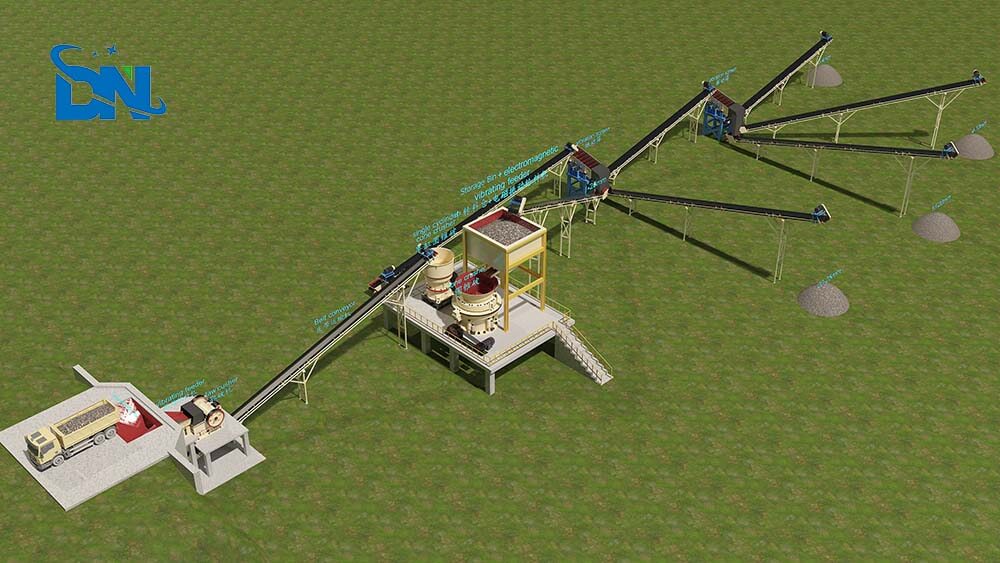 This setup is a stone-crushing plant suitable for river stones, granite, marble, basalt, etc., and the processing capacity is 300-500 TPH.
This stone-crushing plant includes feeding, two-stage crushing, and last screening. After the screening, you can get four different particle sizes as the final product. They consist of a vibration feeder + primary jaw crusher, 2nd single-cylinder hydraulic cone crusher, and 3rd cone crusher + 2 vibration screens.
The dump truck or wheel loader transports raw stones to the vibration feeder with a 70-100mm grizzly bar that feeds the stones(such as 400-500mm) to the coarse jaw crusher to crush to below 200mm automatically.
0-200mm discharge from a single-cylinder hydraulic cone crusher goes to the first vibrating screen with two layers(screen size for 20mm and 25mm). So we can get three different outputs, such as 0-20mm,20-25mm, and more than 25mm in size.
Up-screen more than 25mm discharge will be sent to a storage bin with an electromagnetic vibration feeder before a 3rd cone crusher crushes again.
Middle screen 20-25mm output is one of the finished products that goes to the stockpile.
0-20mm Under screen material goes to the second vibrating screen with two layers (screen 4mm,10mm).
After the second vibrating screen discharge, we can get another three different particle sizes.
They will be transported to their respective stockpiles by different belt conveyors.
The capacity for this crushing plant accept custom design, such as 300 TPH, 400 TPH,500 TPH, etc.
The voltage power we usually use is 380V,50HZ,3 Phase. If you need another, we can customize it for you.
To meet the needs of construction sand and infrastructure for sand and gravel, when choosing equipment, we should pay attention to whether the manufacturer's after-sales service is in place, whether the price is appropriate, and most importantly, we should examine the quality of the equipment. Eastman Crushing is a professional factory that provides mining machinery including stone crushers, vibrating screens, vibrating feeders, sand washing machines, and other mining equipment. According to your requirements, we will design a complete sand-crushing production line flow chart and provide an accurate quotation. Welcome to inquire!