[Capacity] 1-500t/h
[Feed size] <700mm
[Output size] 10-80mm
Vibrating screen is the most popular screening equipment widely used in the crushing and screening plant. It does circular trajectory, so also known as the circular vibratory screen.
rectangular single-, double-, and multi-layer, high-efficiency new screening equipment.
Screen Layer1-4 layer.
Applications
mining, quarrying and so on industries to screen ore, sand, gravel effectively.
Screen materials
steel, ethoxyline resin.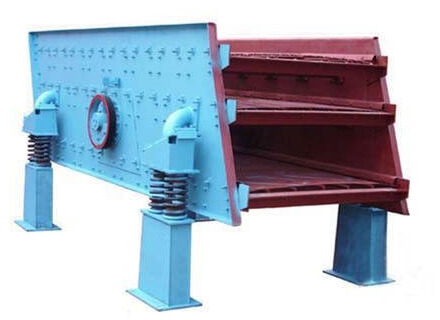 Multi-Layer Screen
Customizable Screen Layer, most came in single, dual, three layers. Up to 4 layer to choose from.
Screen material + mesh size
Customizable steel, nylon, PP material with diamond, rectangle mesh shape.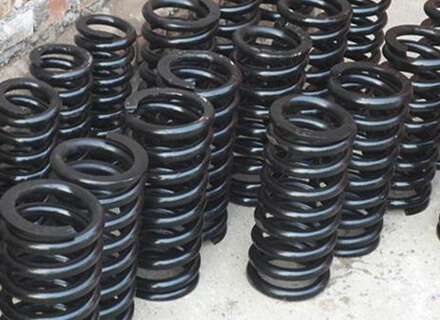 Rubber isolation spring
Longer service life, little noise, stable resonance region.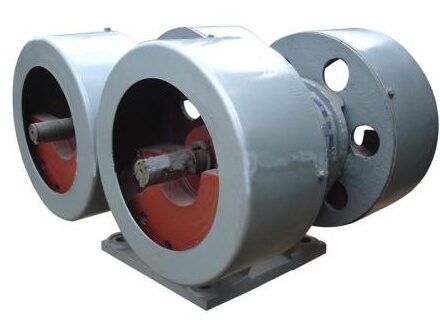 Eccentric shaft vibration exciter
High quality, stable and continuous performance.
vibrating screen working principle
According to motion theory, screening machines can divide into linear, circular, horizontal, eccentric shaft vibratory screens and inclined screen.
The vibratory screening machine is to utilize reciprocating vibration of the vibration generator produced. The processing of the screen separates the different size material by a single- or triple-deck screen. That is, according to the size of particles to separate. The underlayer is a small material, and the upper layer is coarse particle material. In the end, the coarse and fine particles are separated and the screening process is completed.
Some features highlight:
Screen feed: mixture of coarse and ifne particles
Material stratification: Nearsize and oversize particles at the top of bed
Separate screening: nearsize particles in contact with screen surface
Stratified region experience a high rate of screening
Types of screen mesh material
The single deck, double deck, and multilayer vibrating screen is the basis of the numbers of the layers. Because of the different screening materials, we also call it gravel screen, sand screen machine, aggregate screening, wet vibratory screens.
vibrating screen Technical specifications
Standard Model
Layer
Max Particle size(mm)
Sieve size(mm)
Amplitude (mm)
Capacity (t/h)
Frequency (shift/mm)
(° ) Angle
Cooperate Motor
Dimension L*W*H
Weight (kg)
Model
(W)Power
SZZ600× 1200
1
40
1-25
6
10-20
1000
15-25
Y112L1-4
2.2
1370× 890× 330
340
SZZ2600× 1200
2
40
1-25
6
10-20
1000
15-25
Y112L1-4
2.2
1370× 890× 430
360
SZZ900× 1800
1
40
1-25
6
20-25
1000
15-25
Y112L1-4
2.2
2150× 1358× 575
550
SZZ900× 1800
2
40
1-25
6
20-30
1000
15-25
Y112L2 -4
3
2489× 1358× 770
620
SZZ1250× 2500
1
100
5-40
2-7
150
850
15-25
Y1321S1-4
5.5
2762× 1714× 680
1100
SZZ21250× 2500
2
150
5-40
2-7
150
850
15-25
Y1321S1-4
5.5
2702× 1714× 740
1300
SZZ1500× 3000
1
100
1-40
8
220
800
15-25
Y132M1-4
7.5
3320× 1449× 787
2100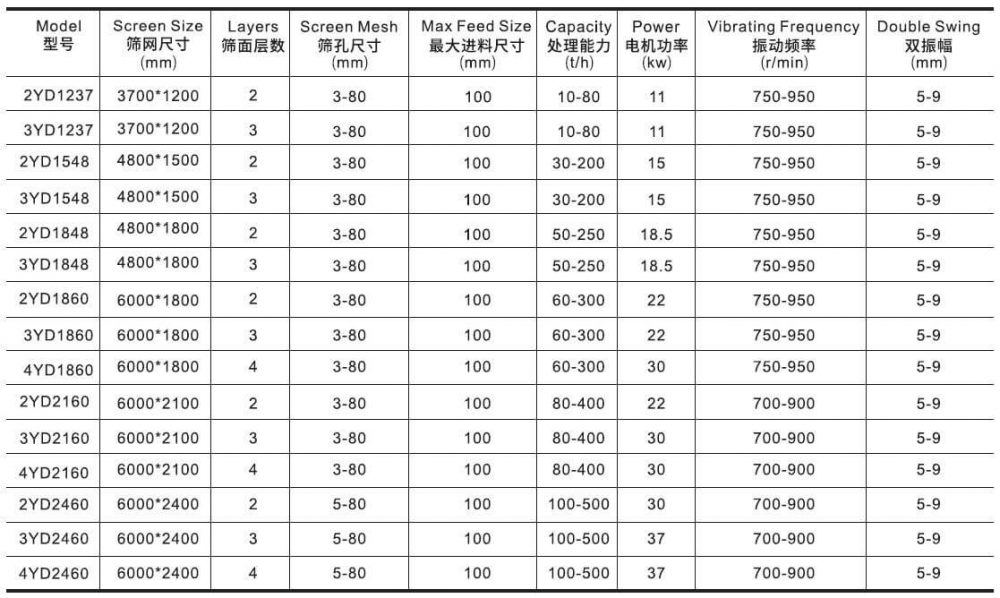 Get Equipment detail & price
Quick quotation, free crushing flow design, on-site service! Respond to you within 24 hours.
The material screen drip line is long and has many screening specifications.
The eccentric block as an exciting force, a strong exciting force.
Sieve beams and sieve box connected by high strength bolts, no welding.
Sieve machine has the advantages of simple structure and convenient repair.
The small amplitude, high frequency, high dip structure, so this machine is of high efficiency, maximum, long life, low power consumption, low noise.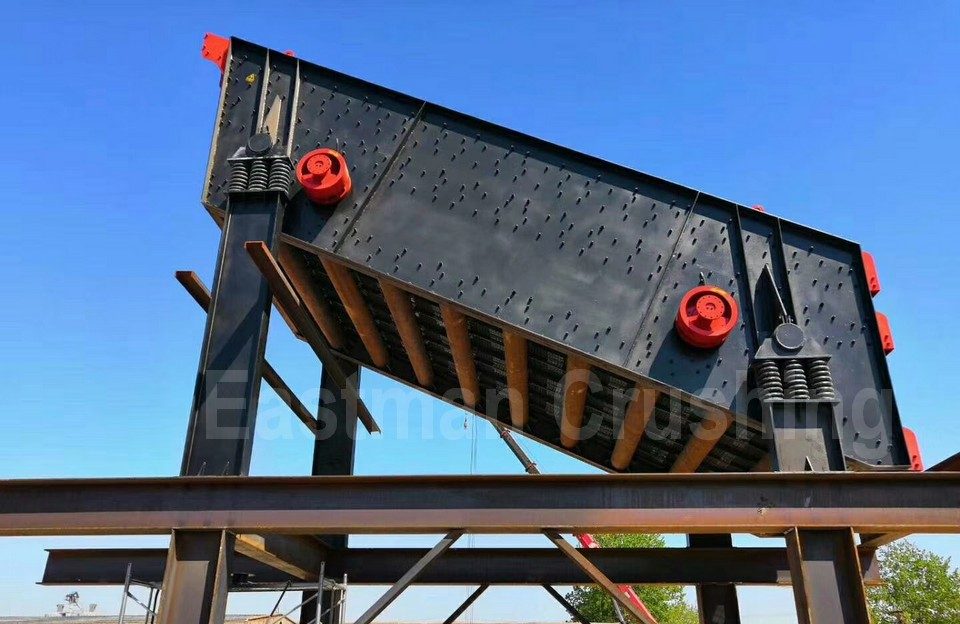 Factors may affect screening result
1. The shape of the particle and screen size
Most screening material is cylinder or anomaly, and the screen size has both circular and rectangle. The shape of the material granule touch screen for particle whether passed has a big effect. The rectangle screen is good for the circular particle, and the circular screen for irregularity.
2. The opening rate of the screen surface
The more opening rate of the screen surface, the more passed.
3. The thickness of materials
If the materials are too thickness, the upside will difficult to pass. If the materials are too thin, the screening products will low, also undesirable.
4. The state of screen motion
The practice shows that level or vertical repeating motion of the screen, The screening effect is not good. The vibratory screeners combined the two motion is better.
5. The peculiarity of the material
All the size, humidity, friction and flowability of material will affect the screen. The humidity higher, friction bigger, flowability too bad, so the passing rate lower.