What are the concrete crushers?
With urbanization and infrastructure construction, the demand for sand and gravel is increasing, and natural sand is in short supply. In order to solve the shortage of natural sand, a large amount of machine-made sand has been used, so waste concrete has also become the raw material of machine-made sand. Reprocessing waste concrete is the reuse of resources, so what machine is used to crush the concrete? How much does it cost? This article will introduce in detail.
There are still many ore equipment that can crush concrete. Here we mainly introduce two kinds of mobile crushing machines and fixed crushing machines.
stationary concrete crushers
★Jaw crusher: Jaw crusher is a commonly used coarse crushing processing equipment. It has deep crushing cavity, large feed size and uniform discharge. It is generally used for coarse crushing of concrete blocks. It has a unique structure, low price, economical efficiency, and output. high.
★Impact crusher: It is used in the medium and fine crushing stage of concrete. The concrete hardness is average, and the impact crusher is a suitable choice. The finished product is cube-shaped, with less stone powder, the wear resistance of the wearing parts is improved, and the operating cost is effectively reduced.
★Mobile Crusher: The mobile crusher is a kind of movable vehicle-mounted equipment, divided into tire type and crawler type. It integrates the four functions of feeding, crushing, screening and conveying. The user can directly drive it to the production site to work. Good coordination, high production efficiency, and excellent sand making products.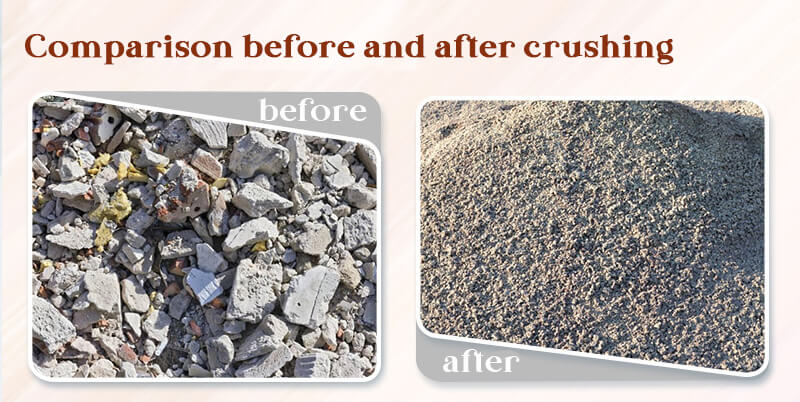 ▶Unique design and reliable operation
The concrete crusher frame adopts a brand-new design concept to ensure the rigidity of the frame while reducing the installation space of the whole machine; crushing concrete is more excellent. The optimization of the equipment, especially the optimization of the overall structure and counterweight part, effectively reduces the vibration level of the equipment during operation, makes the equipment operation more stable and reliable, the equipment carrying capacity is larger, and the operation is more stable.
▶Crushing is more convenient
The concrete crusher controls the movement of the adjusting seat through the screw or hydraulic cylinder, which can easily and quickly adjust the discharge port. In addition, the movable jaw assembly is composed of high-quality cast steel movable jaw, forged eccentric shaft and large roller bearing. Make it more safe and reliable to crush.
▶Strong production capacity
The concrete crusher combines the optimized design of the crushing cavity type and movement parameters. The depth of the crushing cavity greatly improves the production capacity and can bring more considerable economic benefits to users.
Quick quotation, free crushing flow design, on-site service! Respond to you within 24 hours.
The granite crusher is a general designation of mining crushing machinery for processing granite. Granite is the second hard stone after diamonds, which is more difficult
350-400TPH Granite Sand Making & Washing Plant Material: GraniteCapacity: 350-400TPHOutput size: 0-5mmInput Size: 0-780mm Schematic Diagram of Process Equipment Equipment Used
200TPH Granite Sand Making Plant Material: Granite,  Hard Stones, ectCapacity: 200TPHOutput size: 0-5mm, 5-15mmInput Size: < 600mm Schematic Diagram of Process Equipment
Capacity: 200t/h Material: 0-8mmpebble sand Sand application: construction, roads, bridges, etc Get Free Flow Design WhatsApp Instant Reply bucket type
500tph Quartz Sand Making Plant Capacity: 700t/h Material: quartz sand Equipment: Vibrating feeder, jaw crusher, sand making machine,  circular vibrating
50TPH sand making plant Capacity: 30-50t/h Material: River pebbles, granite, basalt and so on Equipment:Jaw crusher, fine crusher, sand making
Basalt Sand plant Information Material: Basalt Capacity: 350TPH Output size: 0-5mm, 5-10mm, 10-20mm, 20-30mm Input Size: <400mm Project Details The