Stone rock crushers are widely used in many sectors such as mining, smelting, building materials, highways, railways, water conservancy, and chemical industries. At present, there are two types of stone crushing machines commonly used: mobile stone crushers and stationary stone crusher equipment.
Stationary crushers include jaw crushers, impact crushers, hammer crushers,  roller crushers, cone crushers, etc.
Mobile rock crushers include mobile jaw crushers, mobile impact crushers, mobile heavy hammer crushers, mobile sand-making machines, mobile cone crushers, and so on.
Rock Crushing Equipment for Sale
Rock Crushers From Eastman Crushing
Eastmancrushing understands crushing and grinding machines well. We are one of the leaders in rock crushing in China for about 40 years. We're proud to offer a line of rock crushers that provide a wide range of options and fit a variety of applications. From reducing the size of large rocks to gravel, grinding rocks to table salt size, or pulverizing them to a fine powder, Eastman crushing has you covered.
We strive to make sure every machine we construct is a custom solution that gets a specific job done right.
Rock Crushers Applications & Solutions
Our rock crusher machines applicated in a variety of industries. Whether it is large or small industrial projects, our machines are equipped to handle your projects. Within the rock sector, our machines are used for a variety of stones as well. Follow it's some common applications of our rock crushing machines.
Frequently Asked Questions
What crushers are suitable for a 100TPH limestone crushing plant?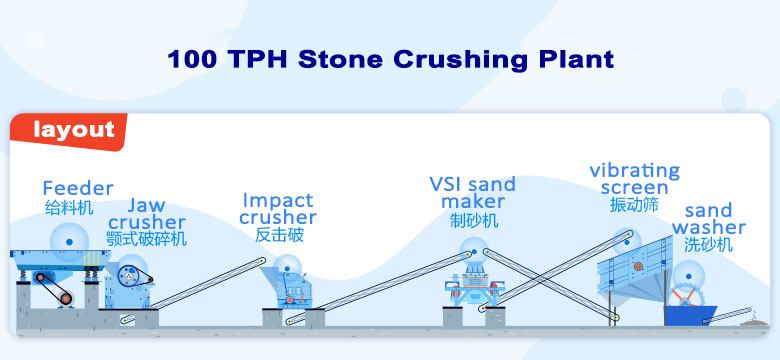 Main equipment: bin, 380×95 vibrating feeder, PE600X900 jaw crusher, PF1210 impact crusher, 2914 sand washing machine, 1854 vibrating screen, conveyor belt.
How long is the service life of Wearing Parts?
The wearing parts of our company's equipment are all made of high wear-resistant materials, which are durable and have a double longer life than ordinary wear parts, please contact us.
How to deploy A 200TPH granite sand making line with 0-5mm,10-20mm?
Granite is not easy to crush to sand, main equipment has PE-750×1060 jaw crusher (coarse crusher), HP300 cone crusher (fine crusher), bin, 490×110 vibrating feeder, B1000x22 conveyor belt, B1000x30m conveyor belt, B800x31 conveyor belt, 4YK2460 vibrating screen, etc. contact us!
Which hammer crusher can crush iron ore (100TPH)?
In this case, we recommend the use of a PCZ1308 heavy hammer crusher with a feed size of 930x650mm, the feed particle size is less than 600mm, the motor power is 4P 132Kw, and the processing capacity of the equipment is 100-180t/h.
Can You Deliver The Goods On Time?
Eastman is a typical direct selling enterprise with green and standardized production plants. All the delivery of the equipment will be completed within the delivery period signed by the contract to ensure the smooth commissioning of the equipment.
application field & suitable materials
Rock crushers have a wide range of suitable material to choose from, whether it's soft or hard, or even very hard, rock crushers can reduce those large rocks into smaller rocks, gravel, or even rock dust.
Here are some typical materials that break or compress by industry crushers, such as Granite, quartz stone, river pebble, limestone, calcite, concrete, dolomite, iron ore, silicon ore, basalt and other mines, rocks and slag.
In mining industry, with primary and secondary crushers handling coarse materials, and tertiary and quaternary crushers reducing ore particles to finer gradations.
Metallurgy area, use crushers and grinding mills for further reducing the mineal ores so that it's suitable for next step operation.
In achitechive, there are many building materials, such as cement, sand, etc., need to use different crushers in their production process.
Recovery area, like construction waste, slag and tailing after metal smelting, etc. Crushers can be used to recover some useful materials from those "waste" and reduce environment pollution.
Mining operations use different kinds of crushers so selecting the appropriate crusher is important for every operation.
Understanding the stages of crushing process and the types of crushers that best fit each stage can simplifies your equipment selection. Each type of crusher is different and used to achieve a certain end result.
Similarly, a certain output is expected at the end of each crushing stage for the next phase of the process. Aggregate producers who pair the correct crusher to the correct stage will be the most efficient and, in turn, the most profitable.
The following table describes typical uses of commonly used crushers:
| Type | Hardness | Abrasion limit | Moisture content | Reduction ratio | Main use |
| --- | --- | --- | --- | --- | --- |
| Compound crusher | Medium hard to very hard | Abrasive | Dry or wet, not sticky | 3/1 to 5/1 | Mine, building materials |
| Cone crushers | Medium hard to very hard | Abrasive | Dry or wet, not sticky | 3/1 to 5/1 | Quarried materials, sand & gravel |
| Crusher buckets | Soft to very hard | No limit | Dry or wet and sticky | 3/1 to 5/1 | Heavy mining, quarried materials, sand & gravel, recycling |
| Gyratory crushers | Soft to very hard | Abrasive | Dry to slightly wet, not sticky | 4/1 to 7/1 | Heavy mining, quarried materials |
| Horizontal shaft impactors | Soft to medium hard | Slightly abrasive | Dry or wet, not sticky | 10/1 to 25/1 | Quarried materials, sand & gravel, recycling |
| Jaw crushers | Soft to very hard | No limit | Dry to slightly wet, not sticky | 3/1 to 5/1 | Heavy mining, quarried materials, sand & gravel, recycling |
| Mineral sizers | Hard to soft | Abrasive | Dry or wet and sticky | 2/1 to 5/1 | Heavy mining |
| Vertical shaft impactors (autogenous) | Soft to very hard | No limit | Dry or wet, not sticky | 2/1 to 5/1 | Quarried materials, sand & gravel |
| Vertical shaft impactors (shoe and anvil) | Medium hard to very hard | Slightly abrasive | Dry or wet, not sticky | 6/1 to 8/1 | Sand & gravel, recycling |
A jaw crusher is a compression type of crusher. Material is reduced by squeezing the feed material between a moving piece of steel and a stationary piece. The discharge size is controlled by the setting or the space between those two pieces of steel. The tighter the setting, the smaller the output size and the lower the throughput capacity.
As a compression crusher, jaw crushers generally produce the coarsest material because they break the rock by the natural inherent lines of weakness. Jaw crushers are an excellent primary crusher when used to prepare rock for subsequent processing stages.
Cone and gyratory crusher.
These are also compression-type machines that crush material between a moving and a stationary piece of steel. The setting between the two pieces controls the output.
Although the chamber is round in shape, the moving piece of steel is not meant to rotate. Instead, a wedge is driven around to create compression on one side of the chamber and discharge opening on the opposite side. Cone crushers are used in secondary and tertiary roles as an alternative to impact crushers when shape is an important requirement, but the proportion of fines produced needs to be minimized.
An impact crusher uses mass and velocity to break down feed material. First, the feed material is reduced as it enters the crusher with the rotating blow bars or hammers in the rotor. The secondary breakage occurs as the material is accelerated into the stationary aprons or breaker plates.
Impact crushers tend to be used where shape is a critical requirement and the feed material is not very abrasive. The crushing action of an impact crusher breaks a rock along natural cleavage planes, giving rise to better product quality in terms of shape.
Most aggregate producers are well acquainted with the selection of crushing equipment and know it is possible to select a piece of equipment based solely on spec sheets and gradation calculations. Still, theoretical conclusions must always be weighed against practical experience regarding the material at hand and of the operational, maintenance and economical aspects of different solutions.
Generally, material reduction is handled in stages. There are some single-crusher systems, but the most common systems involve at least two or three crushing stages.
The duty of the primary crusher is, above all, to make it possible to transport material on a conveyor belt. In most aggregate crushing plants, primary crushing is carried out in a jaw crusher, although a gyratory primary crusher may be used. If material is easily crushed and not excessively abrasive, an impact breaker could also be the best choice.
The most important characteristics of a primary crusher are the capacity and the ability to accept raw material without blockages. A large primary crusher is more expensive to purchase than a smaller machine. For this reason, investment cost calculations for primary crushers are weighed against the costs of blasting raw material to a smaller size.
In most cases, trucks transport raw materials to a fixed primary. The costs of fuel, tires, maintenance and return on investment should also be considered.
A pit-portable primary crusher can be an economically sound solution in cases where the producer is crushing at the quarry face. In modern plants, it is often advantageous to use a moveable primary crusher so it can follow the movement of the face where raw material is extracted.
The purpose of intermediate crushing is to produce various coarser fractions or to prepare material for final crushing. If the intermediate crusher is used to make railway ballast, product quality is important.
In other cases, there are normally no quality requirements, although the product must be suitable for fine crushing. In most cases, the objective is to obtain the greatest possible reduction at the lowest possible cost.
In this crushing stage, the quality and quantity of fine products are determined. Quality requirements can be stringent for final products, especially within the aggregate industry.
In most cases, the fine crushing and cubicization functions are combined in a single crushing stage. The selection of a crusher for tertiary crushing calls for both practical experience and theoretical know-how. This is where producers should be sure to call in an experienced applications specialist to make sure a system is properly engineered.