Experienced technical team to provide you with more professional sand and gravel aggregate production, construction solid waste resources solutions
Granite, one of the main rocks in the earth's crust, is an igneous rock formed by the condensation of magma below the surface. The main components are feldspar and quartz.
The granite has uniform structure, hard texture, beautiful color, and durability. It is a high-quality building stone. In the construction industry, granite can be seen from the roof to the floor. Broken granite can also be made into cement or rock-filled dams.
granite crushing line flow
1. Large pieces of granite are evenly fed into a crusher (jaw crusher) by a vibrating feeder through the bin for coarse crushing;
2. The coarsely crushed granite is sent to the second crusher (impact crusher or cone crusher) by belt conveyor for further crushing;
3. The finely crushed granite is sent to the vibrating screen by a belt conveyor for screening. Several granites of different sizes and specifications are screened out. The granite that meets the particle size requirements is sent to the ultra-fine crusher by the belt conveyor for grinding processing. ;
4. The granite that does not meet the particle size requirements is returned by the belt conveyor to the impact crusher or cone crusher for re-crushing, forming a closed circuit for multiple cycles.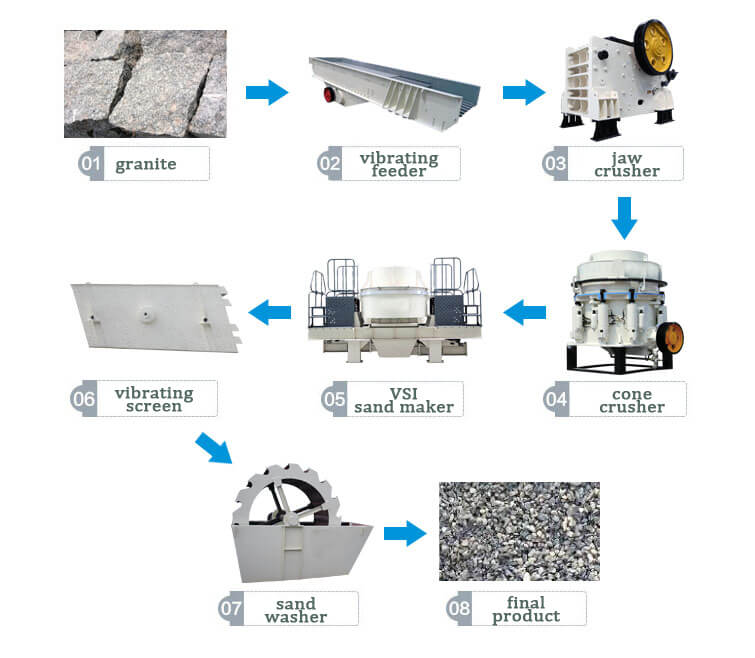 1. The specific process is designed according to the parameters provided by the customer. This flowchart is for reference only.
2. Eastman professional engineers will design matching material solutions for you according to the actual size of the granite material and the fineness requirements of different application fields. Please consult our online customer service.