Granite Crushing & Processing Plant
Granite is one of the main rocks in the earth's crust and is an igneous rock formed by the condensation of magma below the surface. It's also known as acid crystalline plutonic rock, which belongs to hard stone. It is made of feldspar, quartz, and a small amount of mica. The main minerals are quartz, potassium feldspar, and acid plagioclase, and the minor minerals are biotite, amphibole, and sometimes a small amount of pyroxene. There are many kinds of accessory minerals, common ones are magnetite, sphene, zircon, apatite, tourmaline, fluorite, etc. Granite is dense and has a granular structure.
Granite Element
The main component of granite is silicon dioxide, which has a hardness of 6 to 7 according to Mohs hardness. Natural granite has different shapes and needs to be crushed to meet the demand for materials in various fields.
Granite Color
The color of granite depends on the colors and distributions of feldspar, a small amount of mica, and the melanocratic mineral. The colors are usually gray, red, roseate, or gray alternating with red.
The granite has a uniform structure, hard texture, beautiful color, and durability. It is a high-quality building stone. In the construction industry, granite can be seen from the roof to the floor. Broken granite can also be made into cement or rock-filled dams.
The application of granite is divided according to the grain size
Small grains can be polished or carved as decorative plates or works of art;
Medium grained granite are often used to build piers, arches, dikes, harbors, plinths, foundations, pavements, etc;
The coarse granite grains crushed and become an excellent aggregate for concrete.
Because granite is acid resistant, it is also used as an acid-resistant lining and container in chemical and metallurgical production.
Granite Sand and Gravel Aggregates
The particle size of 16-31.5mm are commonly used for large-scale high-rise building foundation and road foundation pouring, with high strength and strong adaptability;
The particle size of 10-20mm are more suitable for small volume concrete equipment, with good slump and high fluidity;
Although the particle size of 5-10mm is also commonly used to equip concrete, its particle size is small, which is used to reduce porosity and save cementitious materials.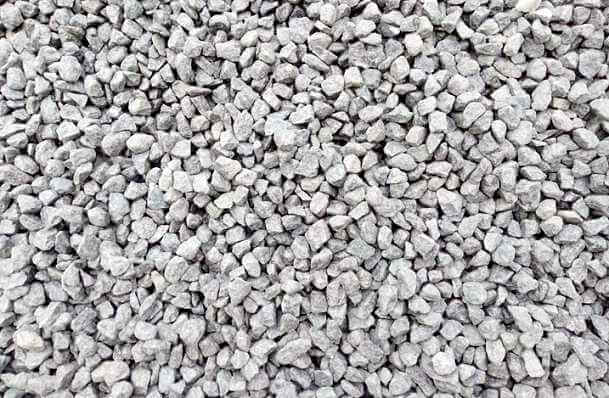 Coarse Crushing
The large pieces of granite are evenly fed by the vibrating feeder through the silo, and conveyed to the jaw crusher for coarse crushing. The finished product is about 10 cm. It is transported to the cone crusher for medium and fine crushing, and the finished product is 2-3 cm.
Medium and Fine Crushing
After the granite sent to the cone crusher is crushed in medium and fine, it is screened by a circular vibrating screen, and the larger particles are returned to the cone crusher to be crushed again.
Sand Making(Shaping)
The crushed granite is sent to the sand-making machine for further crushing and shaping. If it needs to be cleaned, it can be sent to the sand washing machine for cleaning.
Granite Crusher Machine
Generally speaking, the crushing machine of granite includes the jaw crusher(coarse crushing), impact crusher or cone crusher(medium and fine crushing), and sand-making machine(shaping).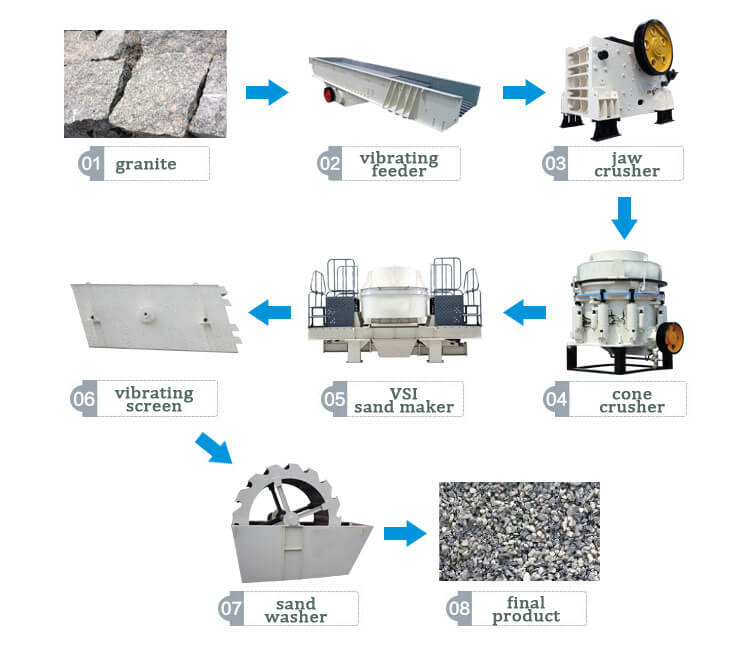 Granite Crushing Plants & Machines
Granite is a kind of material that is difficult to crush, but it is usually slightly easier crushing than basalt. This is because although granite has high hardness, it has certain brittleness. Therefore, the design of crushing process can be relatively flexible. If the customer has an advantage in market price, the process scheme of two-stage crushing can be used. However, from the perspective of long-term production, the three-stage crushing process is still a method to reduce production costs.
● Two-stage Crushing Process
1. Granite Crusher Machine: Jaw Crusher + Jaw Crusher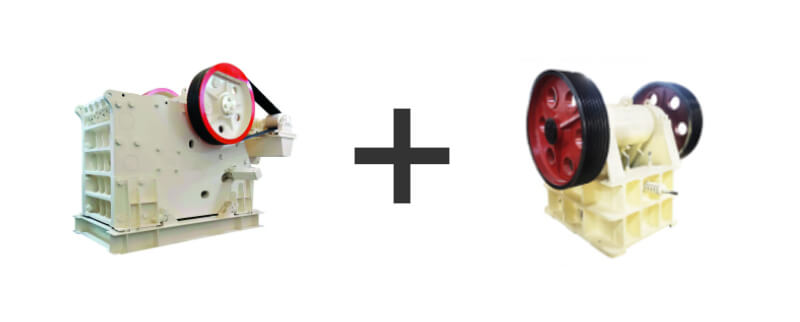 If the grain shape of the finished stone is not high, the two-stage jaw crusher can be used to crush the granite.
Advantages: This configuration is a low investment, simple maintenance and repair program, and the production cost is also economical among all process plants.
Disadvantages: The grain shape of the stone is relatively poor, and the proportion of needle-like materials is relatively high. It is not very competitive in the market.
Want to optimize your granite stone crusher design? 
2. Granite Crusher Machine: Jaw Crusher + Impact Crusher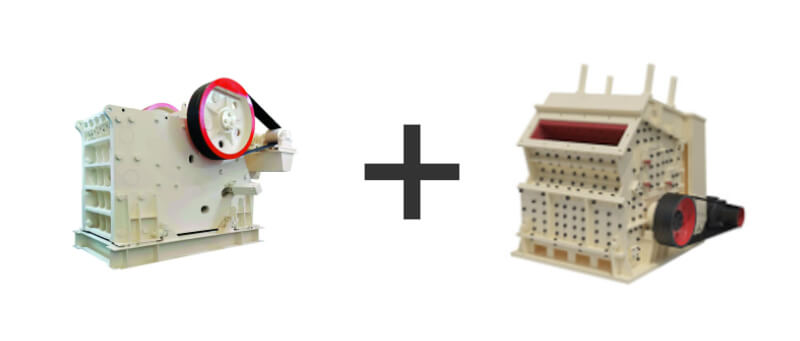 In order to improve the grain shape of the granite (polygonal cube), the process configuration of jaw crusher and impact crusher can be used.
Advantages: The produced stone has good grain shape
Disadvantages: The cost is higher than that of the two-stage jaw crusher solution (because granite is a relatively difficult-to-break material, the wear-resistant parts of the impact crusher are relatively high in loss, and the production cost increased by long-term production is considerable.)
This configuration is higher than the above-mentioned two-stage jaw crusher investment cost, and the produced stone grain shape is also very good. However, since granite is a relatively difficult-to-break material, the wear-resistant parts of impact crushing are relatively high in loss, and the production cost increased by long-term production is considerable. Because of the brittle nature of granite, this configuration is also an acceptable solution.
● Three-stage Crushing Process
Stone Crusher Machine: Jaw Crusher -> Fine Jaw Crusher/Cone Crusher -> Impact Crusher

Advantage
Good grain shape and production cost reduction.The main crushing work is completed by the first and second crushing (lamination crushing), and then the impact crushing is used for shaping and crushing.
Reduces the return material formed after sieving.If the proportion of returned materials in a production line is too high, it will increase the repeated crushing work of the subsequent crusher, and correspondingly increase the loss of wear parts.
The process configuration of the two-stage lamination crushing and the third-stage impact crushing increases the investment cost, but it brings about a reduction in the production cost. Its advantages are self-evident. The specific process configuration needs to be analyzed according to the actual situation of the site. Welcome to contact us for mining & crushing solutions.
Granite Rock Crusher For Sale
Granite Crushing Sand Making and Washing Plant
Granite Crushing Sand Making & Washing Plant Flowchart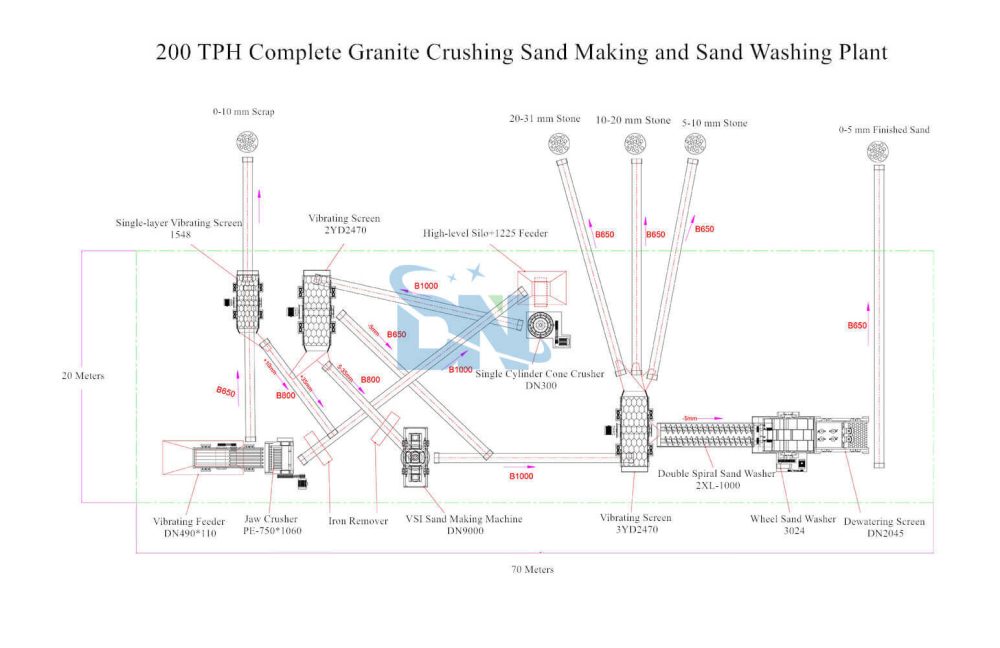 This setup is a 200tph complete granite crushing sand making and sand washing plant, it is configured with one set vibrating feeder, one set jaw crusher, one set single cylinder cone crusher, one set VSI sand maker, three sets of vibrating screen, one set of spiral washing machine/wheel sand washer/dewatering screen and 12 belt conveyors.
Granite Crushing Sand Making & Washing Processing
The truckload feeds raw material to grizzly vibrating feeder, over-grid granite feed into the jaw crusher evenly, then to single-cylinder cone crusher, under-grid material conveys to 1st vibrating screen.
1st vibrating screen has one layer with mesh size 10mm, 0-10mm material transport to a stockpile, +10mm material goes to cone crusher by the same conveyor of jaw crusher's discharge.
This single-cylinder cone crusher is a fine crusher, that can crush material below 50mm, and discharge transport to the 2nd vibrating screen.
4. 2nd vibrating screen equips with 3 layers, over-screen +35mm back to cone crusher for re-crushing, middle size 5-35mm conveys to VSI sand maker for making high-quality sand, under-screen -5mm transport to the 3rd vibrating screen for further screening.
while the product from VSI sand maker is also transported to this vibrating screen by the same belt conveyor.
5. The 3rd vibrating screen will screen out 4 final products: 0-5mm / 5-10mm / 10-20mm / 20-31mm.
0-5mm product needs to wash, it flows to spiral sand washing machine directly, then to the second washing machine — wheel washer, the washed product goes to dewatering screen for dehydration, after that transport to the product pile.
Mineral Ores / Stones Solutions