Iron metal is not only an important basic strategic material, but also one of the main raw materials for steel production. Pure magnetite can be directly put into the furnace to make iron, but generally speaking, there are not many high-grade magnetite. The processing of iron ore mainly goes through the processes of crushing, grinding, beneficiation, and drying, among which the crushing process is the primary and important link in iron ore processing.
The first stage: crushing & screening – three stage closed-circuit crushing
Large pieces of iron ore are uniformly sent to the jaw crusher or coarse crushing mobile station by the vibrating feeder for coarse crushing; the coarsely crushed iron ore is screened by the vibrating screen and sent to the single-cylinder hydraulic cone crusher for processing Medium crushing: The iron ore material after medium crushing is sent to a multi-cylinder hydraulic cone crusher for fine crushing.
The second stage: grinding
The iron powder of 0-12 mm sieved by the vibrating screen is evenly sent to the mill for grinding, and then sieved by the spiral classifier, and the iron powder that does not meet the requirements is sent to the mill to continue grinding.
The third stage: magnetic separation
Send iron powder that meets the beneficiation requirements into a magnetic separator to remove impurities.
The fourth stage: drying
The iron powder obtained is sent to a dryer for drying to obtain iron fine powder.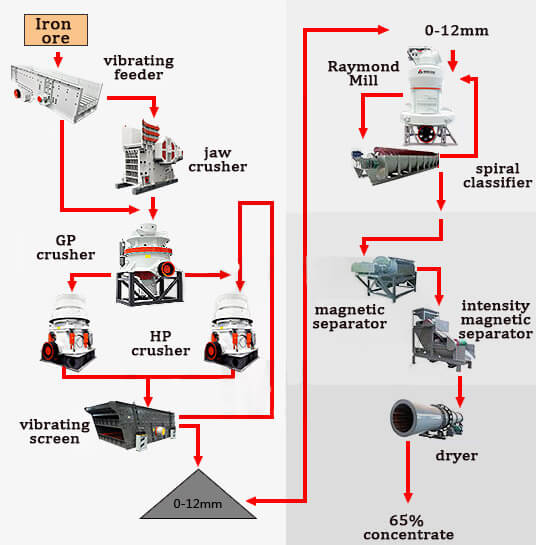 Eastman, a professional mine crushing solution provider, has focused on iron ore processing technology for 30 years, and provides you with a complete set of processing technology and equipment from iron ore to iron concentrate. Contact us to do free design.