Manganese is widely distributed in nature, and almost all kinds of ores and silicate rocks contain manganese. The more common manganese ore is anhydrous and water-containing manganese oxide and manganese carbonate. There are currently 150 known manganese minerals, but they contain ideal manganese and can be enriched in large quantities to form economically valuable manganese minerals, but only 5-6 species. The more important and economically valuable ones are pyrolusite and hard manganese ore, in addition to manganese ore, brown manganese ore, black manganese ore, rhodochrosite and so on. The manganese content in these minerals can reach about 50-70%, and they are important industrial minerals of manganese.
manganese ore processing flow
Manganese ore processing technology is usually divided into three stages: crushing-grinding-beneficiation. The required manganese ore processing equipment includes jaw crusher, cone crusher, ball mill, magnetic separator, dryer and other equipment. The following is a detailed process flow introduction.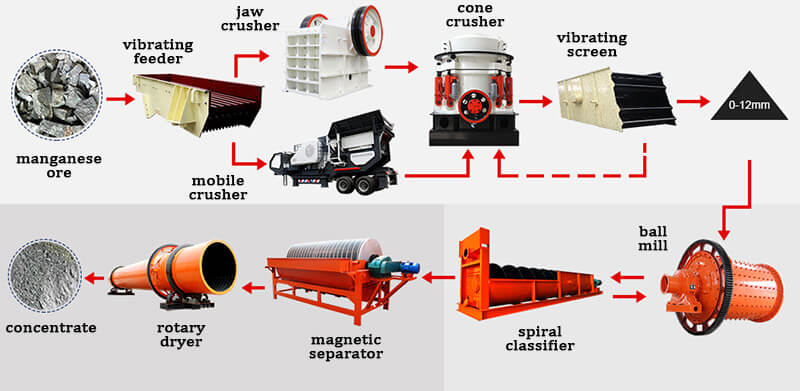 The raw materials of manganese ore are uniformly and continuously sent to the PE-750×1060 jaw crusher for preliminary crushing; then the coarsely crushed manganese mineral materials are sent to the PEX-250×1000 jaw crusher by the belt conveyor.
In order to achieve good enrichment of manganese ore, the material after two crushing needs to be further crushed by the HP300 hydraulic cone crusher; the crushed material is reasonably screened by the circular vibrating screen, and only qualified materials that meet the requirements can go to the next stage, otherwise it will be sent back to the previous crusher to continue crushing; in this way, a semi-closed circuit manganese ore crushing production line is formed.
The qualified manganese ore materials after screening will continue to be sent to the ball mill for grinding, and then through the spiral classifier for screening. Similarly, only qualified materials can enter the next stage of beneficiation.
The finely ground manganese ore powder needs to go through a magnetic separator for strong magnetic separation and impurity removal, to completely remove the non-magnetic materials inside, and then go through a dryer for dehydration and drying (also by natural air drying). Obtain high-quality finished manganese concentrate.