The main component of limestone is calcium carbonate (CaCO3) with a hardness of 3. Limestone is crushed to form limestone particles, which are further ground to form limestone powder, which is widely used in building materials, highways, metallurgy, chemical industries and other industries.
limestone sand making flow
Limestone is rich in resources, and the grade of raw ore generally meets the requirements of various industrial sectors. Therefore, generally only simple ore washing is required, and no complicated beneficiation technology is required for purification.
The processing of limestone is mainly crushing, grading and producing quicklime, slaked lime, precipitated calcium carbonate, ultra-fine (nano) calcium carbonate, carbon dioxide, etc.
Limestone generally adopts dry crushing process. For metallurgical and construction use limestone, only the ore needs to be crushed and screened. If you want to further produce fine powder limestone products, use a jaw crusher, impact crusher or cone crusher to crush the raw ore and then use raymond mill to grind the product. The product fineness is 100-325 mesh. The specific processing flow is as follows :
The first stage: coarse crushing
Large pieces of limestone are uniformly fed by the vibrating feeder to the jaw crusher for coarse crushing. After the coarse crushed materials are screened by the vibrating screen, they are transported to the impact crusher by a belt conveyor.
The second stage: medium and fine
After the coarse material is crushed and crushed by the impact crusher, the circular vibrating screen is used to screen the crushed materials, in which, the large particles are returned to the impact crusher to be crushe again; if finer products or shaping are required, the materials are sent to the sand machine machine to further fine crush.
The third stage: screening
The medium and finely crushed stones are conveyed to the vibrating screen through a belt conveyor to screen out different specifications of stones. The stones meeting the particle size requirements are conveyed to the finished product pile, and the stones larger than the upper screen size are returned to the impact crusher through the belt conveyor.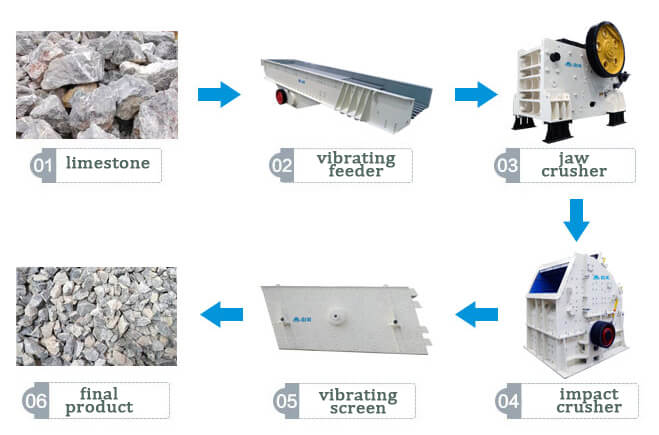 1. The specific process is designed according to the parameters provided by the customer. This flowchart is for reference only.
2. Eastman professional engineers will design matching material solutions for you according to the actual size of the granite material and the fineness requirements of different application fields. Please consult our online customer service.