Eastman provides those track-mounted or wheel-mounted rock crushing machines that are easily movable on and deploy between production sites.
Those machines are widely used in aggregates production, mining operations, or in some recycling applications.
Track-mounted mobile crushers
mobile crusher advantages
Mobile crusher is often referred to as 'mobile crushing plant', is a wheel or crawler rock crushing plant that innovatively designed for unfixed production sites, it easily movable in a varieties of rock crusher applications like aggregate production, construction waste recycling, quarrying, mining industry.
The greatest advantage of mobile crushers is the flexibility, both tracked and wheeled versions, greatly shoot the trouble of hauling and thus maximise productivity reduces the operation costs.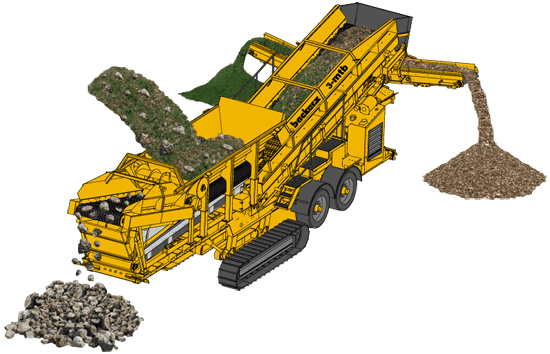 In fact, the concept of mobile and semi-mobile crushing plants has arouse for a long time, but it has not been realized until recent years, mainly because most machines are very heavy, it is not easy to move them. Therefore, most crushers are permanent facilities and rarely relocated. Now, the mobile crusher can replace the stationary crushing system.
Flexible capacity and reliability
Designed and engineered with more than a century of crushing experience. Premium components and persistent quality testing.
Energy-saving and environment friendly
Easy to transport. Electric drive. Advanced dust and noise reduction.
The process starts and stops by pressing one button. Proper stairs and platforms. Finger protection and safety wires.
Real-time diagnostics and process optimization. Simple to maintain. Comprehensive service network to support.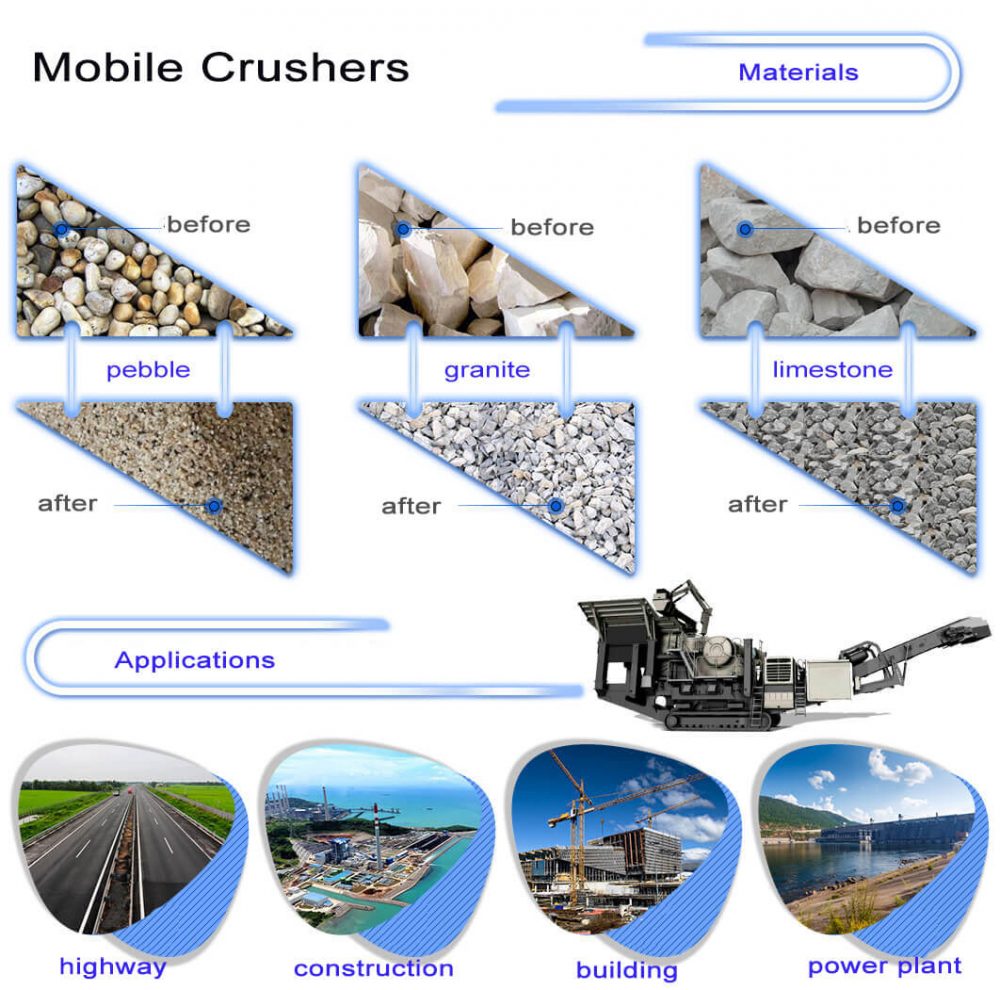 If you're looking for a heavy duty primary crushers rugged using in heavy mining, recycling and quarried materials, the mobile jaw crushers are right for these tough operations to reduce the material to smaller sized for further processing. There's a sturdy tracked mobile jaw crusher with capability ranging from 50 – 450 tons to meet your specific requirements.
Features: Remote control to clear the blockage and adjust jaw gap, automatic iron removal. It is ideal for quarrying and the like industries.
Mobile impact crushers are divided into two categories: mobile horizontal shaft impactor (HSI) and mobile vertical shaft impactor (VSI).
The mobile horizontal shaft impact crusher generally used in the primary, secondary or tertiary stage of crushing process. Mobile VSI crusher, or called as mobile sand making machine, is equipped with vertical shaft impact crushing device, usually used in fine crushing and particle shaping process, can produce more uniform cubic end products desirable in the aggregate industry.
Our range of mobile cone crushers meet any size reduction challenge in secondary and tertiary crushing process, provide you with high quality materials and good shape. If the particle size of the processed material is small enough, they can also be operated as the primary crusher.
Our hydraulic cone crushers are versatile & intelligent, with a compact design, minimal manual operation, wide range of chamber options and eccentric throw adjustments, making this cone crusher plant one of the most trusted cone crusher in applications.