Wet type manufactured sand making
The Eastman wet sand making process uses a new type of sand making machine to replace the rod mill with higher operating costs, greatly improving the reliability of the artificial sand production line and ensuring product quality.
This process is designed for materials below 40mm. The vertical shaft impact crusher (VSI sand making machine) used has the characteristics of high crushing efficiency (with fine crushing and coarse grinding functions), convenient installation and maintenance, and excellent product particle size (cubic, less needle-like content).
Aggregate of 0-40mm is transported to the vertical impact crusher by the suspended feeder and belt conveyor for crushing. The crushed material is screened on the vibrating screen, and the material larger than 5mm is returned to the impact crusher to be crushed again, forming a closed loop . Materials smaller than 5mm enter the sand washing machine for cleaning, and the cleaned materials are transported to the finished product pile through the belt conveyor. In order to ensure the fineness modulus and gradation of the machine-made sand, the sewage after cleaning the sand can enter the fine sand recovery system to recover the fine sand below 0.16mm.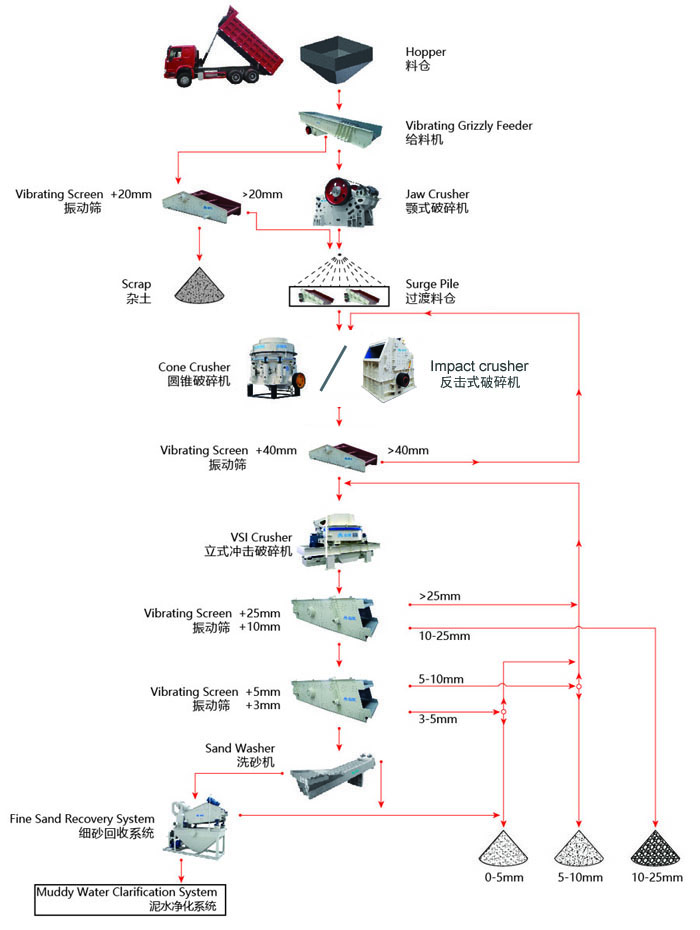 1. The process design is scientific and reasonable, effectively guaranteeing the quality and output of machine-made sand;
2. Can crush medium, high hard and extra hard materials;
3. High automation configuration, which greatly reduces the cost of human resources;
4. The finished sand has excellent grading and adjustable fineness modulus;
5. The equipment has low noise and dust pollution during operation.
1. This flowchart is for reference only. Eatman will design the best solution based on the parameters provided by the customer. Conact us.
2. The mud content of the material cannot exceed 10%. The mud content will have an important impact on the output, equipment, and process.
3. Eatman can provide process plan and technical support according to the actual requirements of customers, and can also design non-standard supporting parts according to the actual installation conditions of customers.