River pebbles/pebbles are hard solids formed after thousands of years of mountain and water impact and flowing water transportation.
River pebbles are hard in quality and strong in pressure resistance. They are the main material for the production of machine-made sand and gravel, meeting the requirements of artificial sand and gravel in various places.
The river pebble/cobblestone sand making process is divided into three stages: coarse & fine crushing, sand making & screening, and sand washing & recycling.
The first stage: coarse & fine crushing
The materials are uniformly fed by the vibrating feeder through the silo and transported to the jaw crusher for coarse crushing. After the coarse crushed materials are screened by the vibrating screen, they are conveyed by the belt conveyor to the cone crusher for medium and fine crushing.
The second stage: sand making & screening
The crushed materials are transported by the belt conveyor to the sand making machine for fine crushing. The fine crushed materials are then screened for coarse sand, medium sand, fine sand and other specifications through a circular vibrating screen.
The third stage: sand washing & recycling
For those with strict requirements on the powder content of sand, a sand washing machine can be installed behind the fine sand, and the sewage discharged from the sand washing machine can be recycled through the fine sand recovery device. On the one hand, it can reduce environmental pollution and increase the sand production output.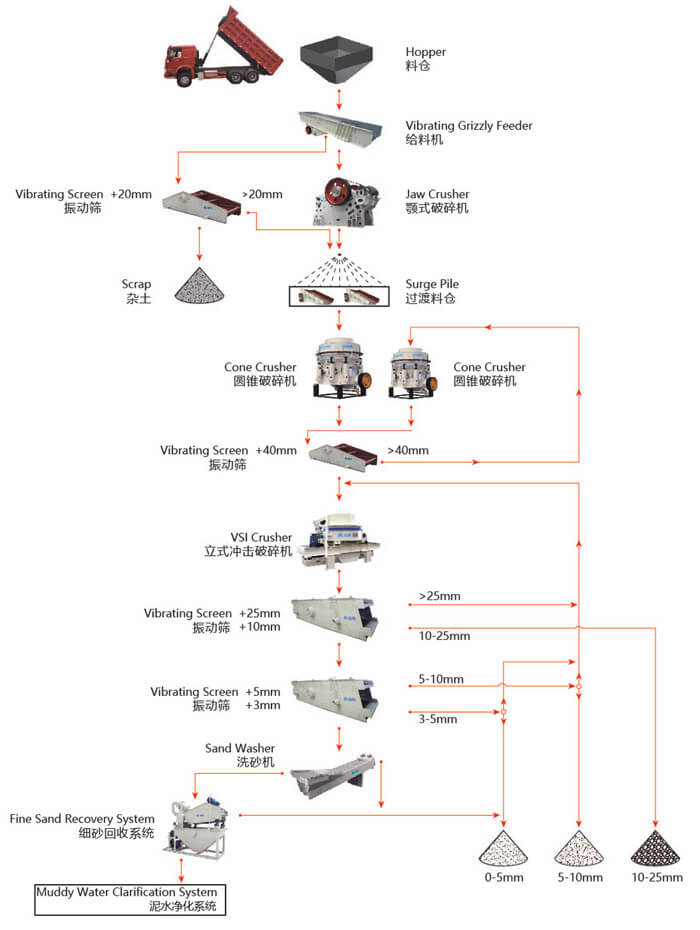 1. The specific process is designed according to the parameters provided by the customer. This flowchart is for reference only.
2. Eastman professional engineers will design matching material solutions for you according to the actual size of the granite material and the fineness requirements of different application fields. Please consult our online customer service.
Jaw crusher
Jaw crusher can crush hard pebbles. The jaw crusher has high compressive resistance, wide feed size range, no dead zone in the crushing cavity, high output and crushing efficiency.
cone crusher
The cone crusher maximum feed size is 300mm. There is no requirement for hardness, and an overload protection device is installed, so the operation process is very safe and stable.
VSI sand maker
Sand making machine is commonly used for fine crushing and shaping of pebbles. Product have good cubic shape,uniform grain size.
Sand Washer
The sand washing machine is used to clean the pebbles particles after sand making. Small amount of fine sand loss, less water consumption, and good cleaning effect.