350-400TPH Granite Sand Making & Washing Plant
Material: Granite
Capacity: 350-400TPH
Output size: 0-5mm
Input Size: 0-780mm
Schematic Diagram of Process Equipment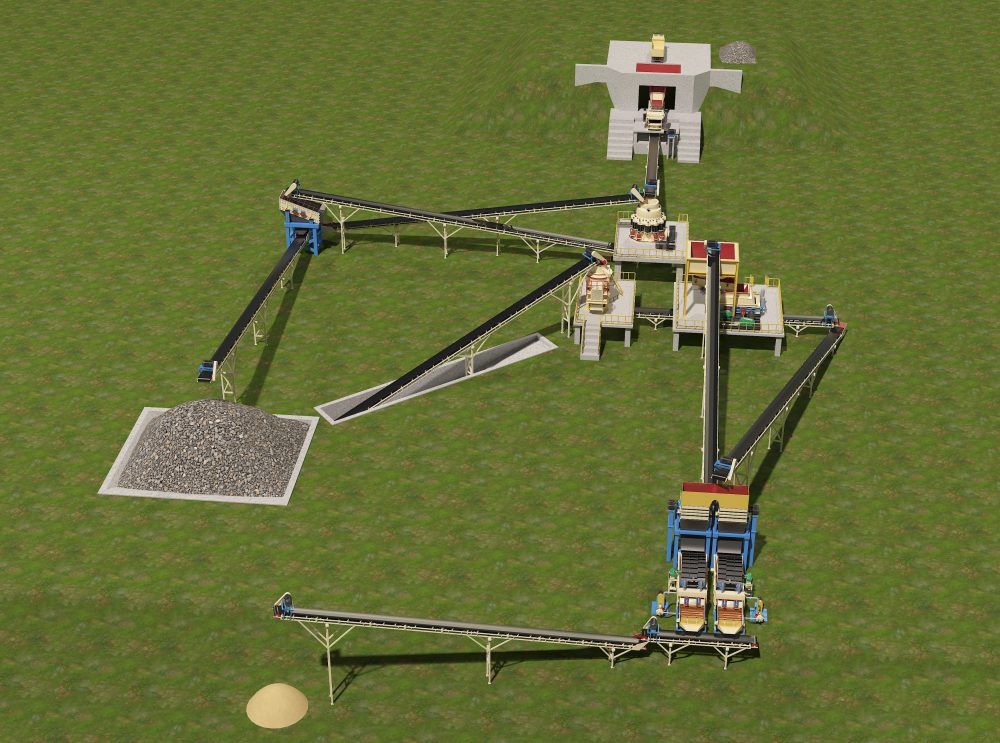 Hopper
Vibrating feeder DN6013
Primary jaw crusher PE-900*1200
Cone crusher DN1650
Vibrating screen 2YD2470( 2 sets)
VSI DN10000
Belt conveyors
The truck unloads the stones into the hopper, the stone enters the vibrating feeder from the lower part of the hopper;
 The vibrating feeder feeds the stones evenly to the primary jaw crusher;
 The crushed output materials from the primary jaw crusher will be transported to the secondary cone crusher by a belt conveyor;
 The crushed output materials from the secondary cone crusher will be transported to the two-layer vibrating screen;
 After screening by the two-layer vibrating screen, will get 0-35mm and +35mm materials. 0-35mm materials will be transported out by a belt conveyor to stockpile,  +35 materials will be transported back to the cone crusher for re-crushing.
0-35mm materials in the stockpile will be fed to the conveyor belt by a vibrating feeder. Then it will be transported to the VSI crusher to be crushed and shaped. the output materials will be transported to the second and third vibrating screen;
 After the screening, will get 0-5mm materials, the +5 mm materials will be transported back to double roller crushers. The advantage of double roller crushers is less dust and a relatively high sand output rate.
 0-5mm material will be washed by two sets of wheel sand washers, it can be a spiral type sand washer.
 The output of the sand washer will be dewatered by the fine sand recycling machine DN2045.
Supplement:
The role of the VSI crusher in this setup for producing high standard output materials for mixing stations, asphalt stations, etc. 
This crushing plant is suitable for processing many kinds of hard stones, like basalt, pebbles, granite, diabase, etc.
The capacity for this crushing plant can be customized as per request such as 200tph, 300-400tph,1000tph, etc.
➤Professional Engineers Team
Tell us raw material of your aggregate plant, input size, output size, and capacity. Our professional crusher plant engineers will quickly design a completely crushing process flowchart of simple, efficient, and low cost for you. Also, our engineers can design the flowchart according to your needs. Answer any aggregate questions for you.
➤Excellent Crusher Manufacturers
Our company was founded in 1985. In the aggregate crushing industries, we have 35+ years of machinery production of experience. All the equipment of stationary crusher plant, mobile(portable) crusher plant are choose the best materials, and meticulously casting every part. High Performance & Ease of Operation, many crushers equipment in stock.
➤Good Service
We have a office in Tanzania.The customers of regions near Tanzania and Tanzania, we provide installation service for free. All of our equipment, 1 Year Warranty.