construction waste resources Utilization
We would like to work together with you for a better city
hazards of construction waste
Construction waste refers to the solid waste generated during the construction, maintenance, and demolition of buildings, including waste concrete blocks, asphalt concrete blocks, mortar, broken bricks, metals, bamboo wood, waste materials from decoration, and various packaging Materials and other wastes, etc., account for about 30%-40% of the total amount of municipal waste, which is a source of larger municipal waste.
Most of the construction waste is directly piled up in the open or landfilled without any treatment. This treatment method not only takes up a lot of valuable land resources, but also wastes a lot of recyclable building materials, and also increases environmental pollution.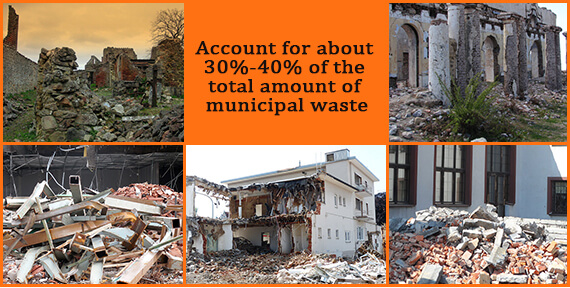 The necessity of recycling construction waste
The resource utilization of construction waste is in line with the policy of developing a circular economy and sustainable development. The resource utilization of construction waste is handled well, and while obtaining environmental benefits, it also has good economic benefits. Construction waste recycled products, including recycled aggregates, recycled inorganic mixtures, recycled bricks, recycled concrete, etc., can be widely used in various road projects, municipal administration, gardens, river slope protection, squares and other fields.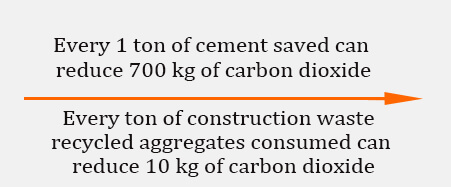 At present, the widely used utilization methods mainly includes 'convey construction waste to the fixed crushing plant' or 'on site mobile crusher plant'.
Fixed crushing plant and equipment
Fixed crushing and recycling process, using fixed equipment to process construction waste in the factory. This method needs to build a large-scale construction waste treatment production line, and produce it in a closed workshop, reduce various pollution, can produce various aggregates, and achieve low emissions. Stationary equipment includes crushing equipment and sorting equipment.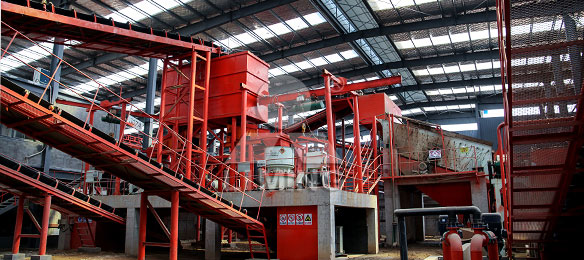 The objects of the crushing operation are mainly concrete materials and stone, the purpose is to reduce the particle size, increase the uniformity of the shape, and facilitate the subsequent processing procedures. When the crushed construction waste is subjected to separation treatment such as screening, winnowing, and magnetic separation, due to its uniform particle size and increased fluidity, the separation efficiency and quality can be greatly improved, and it is conducive to high-density landfill treatment and saving space.
Through sorting, the useful ones are fully selected and used, and the harmful ones are fully separated, especially the construction waste is divided into different granularity levels for different recycling processes. According to different properties, sorting includes manual sorting, screening, gravity sorting, magnetic sorting, buoyancy sorting, optical sorting, etc.
Screening is the use of a sieve to pass the fine material smaller than the sieve hole through the screen surface, while the coarse material larger than the sieve hole remains on the screen surface to complete the process of separating coarse and fine materials.
Mobile crushing equipment is used to process the construction waste on site, reducing transportation costs and avoiding secondary pollution. Various mobile equipment can be combined with each other as required to produce various recycled aggregates.
Eastman provides tire mobile stations and crawler mobile stations, which can be equipped with crushers, screening machines, and sand washing according to production needs.
custom make base on your requirements
1. Coarse Crusher
2. Medium-fine crushing and screening
3. Fine crushing, shaping and screening plant
4. Fine crushing, sand washing plant
1. Coarse Crusher
Coarse Crusher
Main equipment: jaw crusher, impact crusher
Coarse crusher mobile station is equipped with high quality jaw crusher and counter crusher. It has strong crushing capacity and good grain type of finished products. It is especially good at crushing hard and abrasive materials.
Applications: Primary crushing, concrete recycling, construction waste disposal, quarry, coal industry, other industries.
2. Medium-fine crushing and screening
3. Fine crushing, shaping and screening plant
4. Fine crushing, sand washing plant
Get our product detail & price
Quick quotation, free crushing flow design, on-site service! Respond to you within 24 hours.