VSI Sand Making Machine  is known as vertical shaft impact crusher, which is commonly used as sand maker and shaper in the final stage of crushing and grinding circuit.
Applications
Quarry, sand concrete, dry mortar, manufactured sand, power plant desulfurization, quartz sand, etc.
Materials
Cobble, granite, basalt, iron ore, limestone, calcite, quartzite, diabase, etc.
VSI7611
Capacity: 120-180t/h
Feed size: 35mm
Motor: 110Kw
VSI8515
Capacity: 200-260t/h
Feed size: 40mm
Motor: 180Kw
Eastman sand making machine series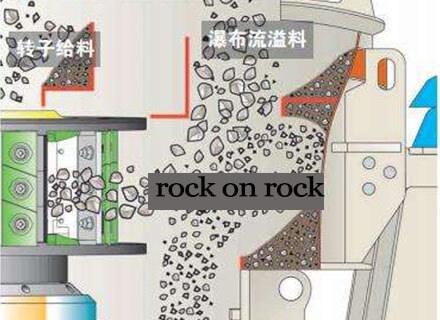 Rock on rock crush
This is a rock on rock (autogenous) crusher, whereby no wear parts are used to crush the rock.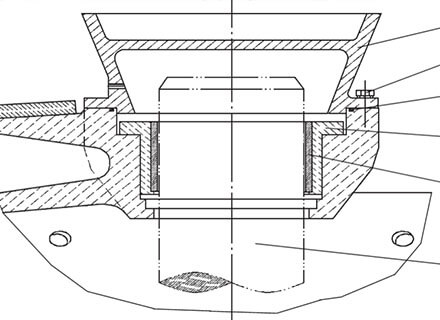 Bearing Sealed structure
The sealing structure prevents oil leakage and dust from entering the bearing barrel.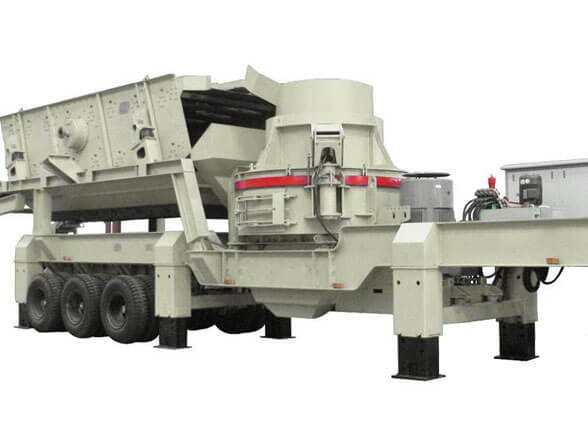 Stationary, mobile version
Mobile VSI sand making machine (wheel or crawler type) easily moves in different  applications.
VSI Maker was first manufactured by the German. Our factory adopted this advanced technology and made some improvement on its rotor structure. Now it is the fourth generation of high-performance sand making equipment with the great improvement and optimized design.
Simple open table and enclosed rotor designs provide reliable performance and low maintenance.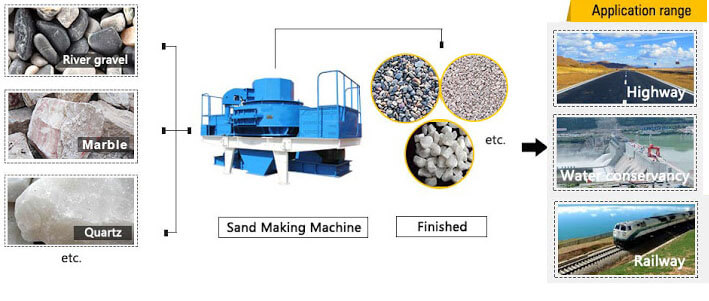 Sand Making machine working principle
A VSI crusher is typically a third stage crusher (maixmum feed size if 55mm) and crushes rock by the impact of rock agianst rock. The vsi sand making machine works by accelerating rocks using centrifugal gorce, to a very high speed and then impacting them into each other within the crushing chamber.
Eastman VSI Sand Making Machine
VSI crusher Technical specifications
Model

VSI7611

VSI8518

VSI9526

VSI1140

VSI1145

Capacity (T/H)

Center And Ring Feeding

120-180

200-260

300-380

450-520

500-640

Center Feeding

60-90

100-130

150-190

225-260

250-360

Best Feed Size (MM)

Soft Material

35

40

45

50

50

Hard Material

30

35

40

45

45

Rotation Speed (R/MIN)

1700-1890

1520-1690

1360-1510

1180-1310

1200-1390

Power For Double Motor (KW)

110

180

264

400

440

Dimension L×W×H (MM)

3700×2150 ×2100

4140×2280 ×2425

4560×2447 ×2778

5000×2700 ×3300

5100×2790 ×3320

Weight (t)

11.8

14.5

17.8

25.6

26

Power Soppty

380V 50Hz

Vibrating Sensor

Monitering Range:0.1-20MM/S Continuousely Adjustable

Lubrication Hydraulic Station

Dual Oil Bump Motor Power

2×0.25kW

Security Protection

Double Oil Pump Ensure The Normal Oil Supply; Automatic Shut Down If No Oil Pressure; Water Cooling; Motor Preheating In Winter.

Over Dimension L×W×H(mm)

820×520×1270

Oil Tank Heating Power

2KW
VSI Crusher has min. wear and max. profits
A properly configured VIS is the key to reducing wear costs and downtime and maximizing profits.
The crushing cavity internal items can be changed or repaired easily and fast because of adopting hydraulic device.
With the unique feeding structure it is convenient to realize the 'rock on rock" and "rock on ore"can crush and shaping stones.
Dustproof sealing system completely avoid the external dust into the lubricating parts.
High quality materials and advanced technology improve the equipment quality and performance.
The best design of crushing cavity prolong the service time of wearing parts and reduce the cost.
Feeding pipe of high abrasive alloy material has a long service life
Feeding distributor are made of high chromium iron wear resistant material high manganese steel plate
Enclosed rotor designs provide reliable performance and low maintenance.
Forged hardened and tempered chrome molybdenum steel, large diameters to suit heavy duty application.
Vertical bearing are produced by the largest manufacturer nationwide and they can support the upper part effectively.