Basalt has the advantages of strong compression resistance, low crushing value, strong corrosion resistance, and good asphalt adhesion. It has been recognized internationally as a good material for the construction of roads, railways, and airport runways. Basalt is also a good quality aggregate for high-rise building lightweight concrete. Because of its pores and hardness, mixing it into concrete can reduce the weight of the concrete without losing its strength. It also has sound insulation and heat insulation. Such advantages are favored by major building materials markets. The demand for basalt raw materials is very strong, and the prospects for basalt investment are bright.
Basalt crushing line flow
The processing of basalt is divided into three stages: coarse crushing by jaw crusher, medium and fine crushing by cone crusher and sand making and shaping by sand making machine.
The first stage: coarse crushing
Large basalt materials are uniformly fed by the vibrating feeder through the silo, and then transported to the jaw crusher for coarse crushing. After the coarse crushed materials are screened by the vibrating screen, they are transported by the belt conveyor to the cone crusher for medium and fine crushing.
The second stage: medium and fine crushing
The basalt conveyed to the cone crusher is finely crushed, and then screened by a circular vibrating screen. The material larger than or equal to 40mm is returned to the cone crusher to be crushed again.
The third stage: sand making
The basalt particles smaller than 40mm after crushing are sent to the sand making machine for further crushing and shaping, and the materials larger than or equal to 20mm are returned to the sand making machine for fine crushing again. Materials smaller than 20mm are sent to the circular vibrating screen for screening and packaging. If clean basalt is required, it can be sent to the sand washing machine for cleaning.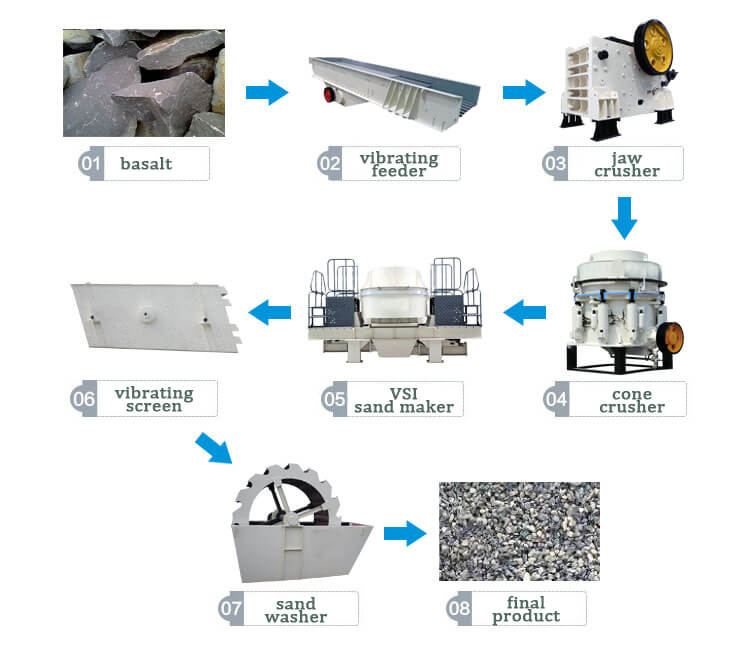 1. The specific process is designed according to the parameters provided by the customer. This flowchart is for reference only.
2. The actual construction should be adjusted according to the terrain.
3. The mud content of the material cannot exceed 10%. The mud content will have an important impact on the output, equipment and process.
4. Eastman can provide process plan and technical support according to the actual requirements of customers, and can also design non-standard supporting parts according to the actual installation conditions of customers.