Five Common Types Of Manganese Ore Processing Solutions
Manganese is a type of common metal mineral in nature. More than 150 types of manganese minerals have been discovered so far, but only a small portion of manganese ore with mining and utilization value, mainly including pyrolusite, psilomelane, bog manganese ore, etc. Manganese has become an essential strategic mineral resource among countries and apply in multiple industries, especially in the steel industry. It can not only use as a deoxidizer and desulfurized in steelmaking and ironmaking processes but also for manufacturing wear-resistant alloys. With the increasingly wide application of manganese ore, the demand for manganese ore mining equipment is also increasing. Here are some details introductions to mining methods, equipment, and the characteristics of it.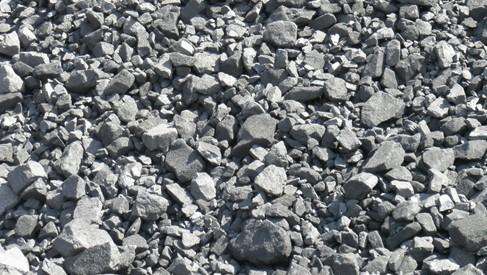 Manganese Ore Beneficiation Equipment
The beneficiation machines for manganese ore mainly include vibrating feeders, jaw crushers, fine jaw crushers, conveyors, swing feeders, ball mills, (weak, medium, strong) magnetic separators, jig separators, ore washing machines, flotation machines, drying machines, etc. The specific configuration and selection of beneficiation machines still depend on the mining process way of manganese ore and the user's production needs.
Based on the different manganese ore beneficiation methods, it divided into five types of mining equipment: oxidized manganese ore mining equipment, carbonate manganese ore mining equipment, ferromanganese ore mining equipment, manganese containing iron ore mining equipment, and multi-metal composite manganese ore mining equipment. Due to the different types of ore deposits and ore properties, the beneficiation process flow of manganese ores also varies.
Manganese Ore Beneficiation Process solutions
Beneficiation method for manganese oxide ore
Massive disseminated manganese-rich ore. This type of manganese ore has a high manganese content, with an upper limit of particle size between 40-75mm. Using a simple manganese ore beneficiation method to get high-grade manganese concentrate by simple screening or gravity separation. Therefore, commonly used manganese ore beneficiation methods include heavy medium separation, jigging separating, and shaking table separation. Required separating equipment: vibrating screen, jig separator, shaking table.
Small and granular disseminated lean manganese ore. The manganese content in this type of manganese ore is relatively low, usually less than 30%, and the manganese mineral particle size is small, the mud content is high, and the treatment method is complex. Due to the weak magnetic properties of manganese ore itself, the current combined process of gravity- magnetic-flotation separating method has a wide application for recovering this type of manganese ore, first washing the manganese-containing slime through a trommel washer to select some of the manganese ore, and then adopting a combined process of jigging gravity separation, magnetic separation, flotation method to recover manganese minerals. The required beneficiation equipment are magnetic separator, jig separator, and flotation machine
      2. Mineral processing methods for carbonate manganese ore
Manganese minerals in carbonate manganese ore mainly exist in the form of manganese carbonate, with fine embedded particle size. The flotation method is the main mining method for this type of manganese ore, but there may be problems such as high metal loss and high reagent consumption. Therefore, in the process, it is necessary to cooperate with strong magnetic separation or gravity separation methods for processing.
The required beneficiation equipment is a flotation cell, magnetic separator, and gravity separation machine.
      3. Beneficiation methods for ferromanganese ore
Iron manganese ores generally use manganese as the metal for recycling, with a total content of manganese and iron bigger than 30%. Compared to oxidized manganese ore selection, iron manganese ore is more difficult to separate, and the difficulty lies in separating iron and manganese minerals. In the production, we can adapt the method of ore washing, jigging gravity separation, and roasting magnetic separation to recover iron and manganese concentrates, resulting in a manganese concentrate containing 5.4% iron and 46.3% manganese, with a recovery rate of 75.5%.
Required beneficiation equipment: linear vibrating screen, jigging machine, rotary washing machine
Beneficiation method for manganese containing iron ore
This type of ore has a low manganese content, only 5% -10%, and also has the features of fine embedded particle size and close coexistence of iron and manganese minerals, making it difficult to recover in the mining separation. The chemical leaching method is a common beneficiation method for this type of manganese ore, and the recovery indicators are significantly better than traditional mechanical separation methods.
Beneficiation method for multi-metal composite manganese ore
In addition to manganese minerals, there also exist a certain amount of metal minerals such as iron, lead, zinc, magnesium, aluminum, copper, and silver in the multi-metal composite manganese ore. Most of them exist in the form of oxidized ore. Manganese minerals are closely bound to minerals like silver and iron, making them difficult to separate. To solve this problem, we can use beneficiation methods such as strong magnetic separation, gravity separation, and flotation. Firstly, washing and screening the manganese ore slime to separate manganese concentrate, and then sorting other recyclable minerals.
The required mining equipment is a vibrating feeder, vibrating screening machine, XCF flotation machine, magnetic drum separator, and trommel washing machine.
300TPH Manganese ore Beneficiation Process Plant
It is the layout of the 300TPH manganese ore crushing beneficiation process plant, and the layout explanation as below: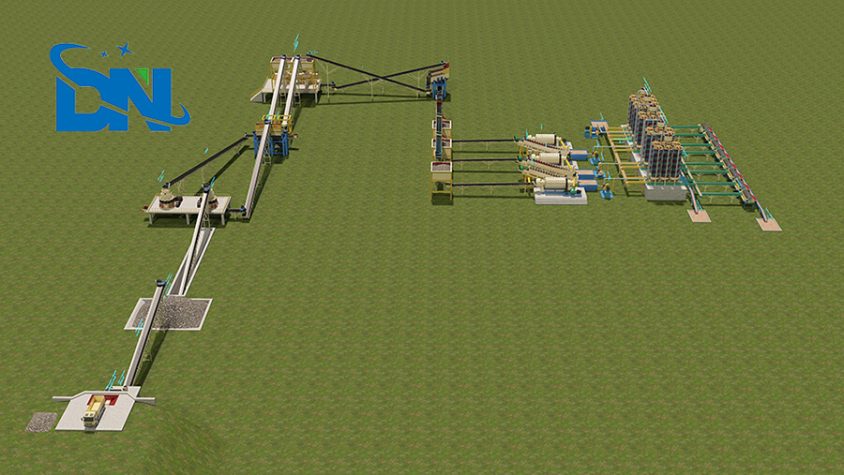 Raw ores feed into a coarse jaw crusher through a big raw ore hopper & vibrating feeder
 Discharge material from the jaw crusher goes to a transit storage bin and then transfers to the cone crusher. The iron remover is installed upon the belt conveyor to prevent the mechanical iron from entering the cone crusher.
 Material crushed by the cone crusher will feed into two sets of vibrating screens, over-screen size material more than 20mm returns to another cone crusher for break down into smaller sizes; while under-screen sizes less than 20mm feed into two transit storage bins that to VSI sand marker, for producing 0-5mm sand.
We also add iron remover upon the belt conveyor from the vibrating screen to the VSI sand maker.
 After sand-making machines, there are two vibrating screens for screening out more than 5mm material and returning it to the transit bin, materials smaller than 5mm goes to three storage bins through a movable belt conveyor.
All the 0-5mm material feeds into the ball mill for powder production, and the discharge material from the spiral classifier can reach 200mesh superfine size and pump into the spiral chute for further separation.
 There are two groups for the spiral chute beneficiation, the middling of the 1st group will be re-processed by the 2nd group to increase the recovery rate.
 Concentrate from 1st group spiral chute & 2nd group spiral chute will feed into the magnetic separator for final concentration, and customers can get manganese concentrate after this magnetic separation.
Due to the unique properties of manganese ore, the ore mud also contains a large amount of manganese minerals, and the ore mud is also an essential part of manganese recovery. Therefore, in developing manganese ore beneficiation methods, pay attention to the recovery situation of ore slime to ensure that the manganese mineral recovery rate meets expectations. We suggest the mine owner consults with a manufacturer with overall qualifications for the beneficiation plant, selects a suitable solution through scientific beneficiation test reports, and customizes various manganese ore beneficiation equipment to ensure ideal recovery efficiency. Eastman is a professional mining machine manufacturer in China. Welcome to inquire for more information.