Construction Waste Recycling And Management
Construction waste refers to the muck, spoil, sludge, and other wastes generated during the construction, laying, demolition, and repair of various buildings, structures, pipe networks, etc. The comprehensive utilization of construction waste is the fundamental method to prevent environmental pollution. Recycling construction waste refers to the activity of extracting or converting industrial solid waste into usable resources, energy, and other materials by recycling, such as using construction solid waste to make building materials, recovering energy from construction solid waste, and recycling the usable materials, This is the direction of current and future development.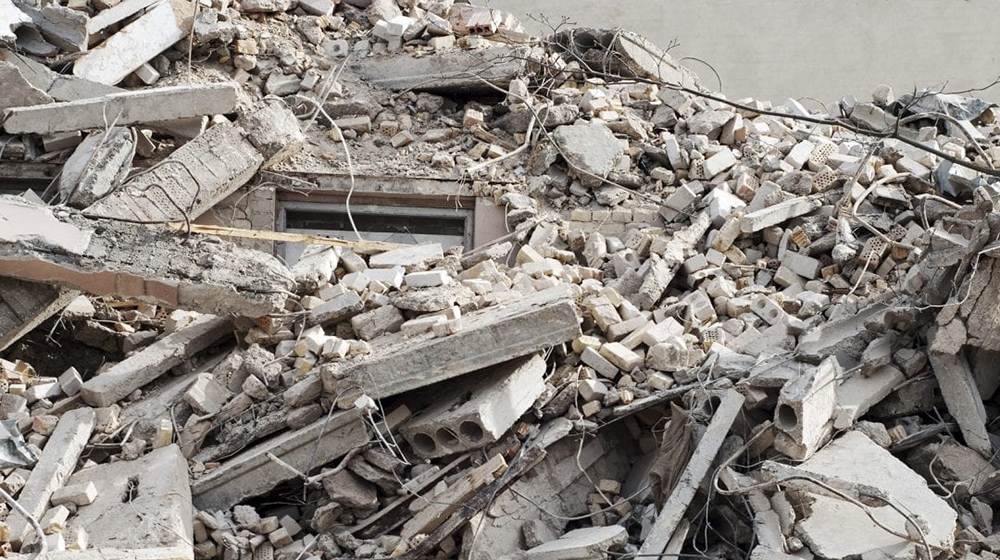 With the rapid development of the construction industry, while developing its economy, some troubles appeared. That is the construction solid waste generated in the industrial production process. These solid wastes not only occupy land space, affect aesthetics, and pollute the environment, but also some of them pollute our atmospheric environment. Therefore, it is urgent to solve the problem of industrial solid waste. So what equipment is used to process such industrial solid waste?
Construction Waste Crushing Equipment
The widely used crushing equipment currently includes jaw crushers, impact crushers, shear crushers, and roller crushers.
(1) The jaw crusher has a simple structure and a wide application in the building materials industry for crushing various ores and scattered shape materials. However, there are also drawbacks, such as a low crushing ratio and easy weariness of the jaw plate. To solve this problem, domestic and foreign scholars have developed dual-chamber double-acting jaw crushers with a crushing ratio of 20-50, dual-chamber rotary crushers, etc. The jaw plate is made of manganese steel containing more than 12% manganese, which improves the service life of the lining plate.
 (2) The impact crusher has wide application in crushing concrete aggregates and grinding fine and coarse metallurgical slag. It belongs to the high-energy and low-consumption crusher with high crushing efficiency and low energy consumption. But its impact hammer and lining plate wear out easily during working processing, and its adaptability to materials containing water and mud is poor. In recent years, with the widespread application of new wear-resistant materials such as Cr26 high chromium cast iron, groove-type energy-saving lining plates replaced stepped lining plates, and solved the wear problem effectively.
(3) Shear crusher. This equipment is currently the most widely used type for crushing household waste, mainly processing solid materials with lower hardness, such as printed circuit boards, wood, straw, etc. When a regular shear crusher cuts, the gap between the cutting tools is fixed. If the design is not reasonable, it cannot apply to crush complex components materials, so its design and manufacturing requirements are relatively high.
(4) Due to the ability to crush vicious and moist materials, roller crushers are widely used for crushing medium to low-hardness materials. There are two types of rollers: smooth rollers and serrated rollers. The former is usually used for medium to fine crushing, while the latter is used for crushing resilient medium hardness materials. The early-stage toothed roller crusher application is limited due to the high over-crushing rate of crushed products. Through the introduction, design, and development of China's 4PGC toothed roller crusher, adjusting the spacing between toothed rollers will get different particle sizes. In the later stage, various domestic research institutes developed 2PGL series double-tooth roller crushers, 2PLF series grading crushers, and DP series single-tooth roller crushers, greatly promoting the development of roller crusher industry.
According to the nature, particle size required crushing ratio, and type of solid waste, the crushing process has different combinations, and crushers are often combined with screen machines to form the crushing process.
① Simple crushing process: It is suitable for situations where the particle size requirements for crushed products are not high.
② Crushing process with pre-screening: Pre-screening removes fine particles from waste that do not need crushing, which relatively reduces the total feeding amount into the crusher and is beneficial for energy conservation.
③ Crushing process with inspection and screening: It separates some particles larger than the required product particle size from the crushed product and send them back to the crusher for further crushing. Therefore, get all products that meet the particle size requirements.
④ Crushing process with pre-screening and inspection screening.
Construction waste recycling plant
Currently, Construction waste crushing equipment includes fixed or mobile processing plants, both can effectively treat construction waste and produce valuable construction aggregate.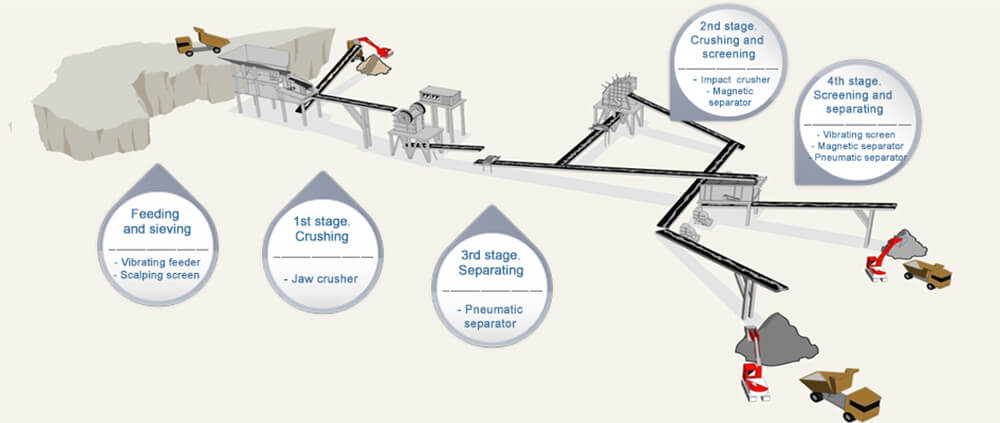 1. Fixed Construction waste crushing plant
Generally speaking, the fixed construction waste crushing production line includes two types of crushing equipment, the jaw crusher, and the impact crusher, etc.
As the primary crushing equipment, the jaw crusher has a large feeding size, strong crushing capacity, and tolerance, and crushes large construction waste into small pieces; The impact crusher belongs to the secondary crushing equipment, which crushes small size of construction waste processed by the jaw crusher. The advantage is the finished product is good, and the crushing method is impacting.
The finished product size is adjustable with a cubic shape and high grading. If choosing the fixed type of crushing plant will need piling infrastructure, and a reasonably constructed construction waste production line, installed the crushing and screening equipment.  The fixed crushing plant is suitable for construction waste treatment with large-scale working sites, and the equipment investment cost is relatively low.
Mobile Construction waste crushing plant
Mobile Construction waste treatment equipment also named mobile crushing plant, which includes feeding, crushing, and conveying equipment with a power system and control box as unit installation. The price of it is more expensive than a fixed crushing plant, but it has advanced technology, flexible methods, diverse configurations, and strong adaptability. Moreover, because Construction waste is stacked separately, the mobile crushing station is moveable during working, crushing on the spot, and the transfer is convenient, which avoids the secondary pollution caused by back-and-forth transportation, is more environmentally friendly, and also saves transportation and environmental treatment costs for users.
Mobile crushing stations divide into tire type and wheeled type. The tire type requires the traction of a semi-trailer head to achieve flexible walking. The machine body and chassis's design make it have a small turning radius and convenient transitions. The crawler type realized autonomous walking, and the crawler mobile crushing plant's design makes it easier to move smoothly on rugged roads such as mountains and wetlands. The configured remote control system remotely controls the equipment with high safety.
In recent years, the recycling of construction waste has become a new attempt to make them realize secondary utilization after processing. For example, metal scrap, scrap reinforcement, and scrap wire can be sorted and recycled into steel and other metal products through hot working; Waste concrete after crushing, screening, and other processes to produce recycled aggregates for filling materials in highway subgrade and walls, also can producing products such as porous bricks, hollow slabs, hollow blocks, and cement raw materials; Waste wood used for manufacturing synthetic boards; Asphalt after being recycled will regenerate to asphalt again. The recycling of solid waste resources, improving the utilization rate of Construction waste, and alleviating the transportation and space storage problems of Construction waste can be effective. It has high flexibility, low carbon, and energy saving, and is close to the ideal environmental requirements of near-zero pollution and zero emission. Eastman is a professional mining machine manufacturer in China. Welcome to inquire for more information.