construction waste - the Psoriasis of city
Construction waste is the muck, waste metal, crushed stone, waste mortar, bricks and tiles generated during the construction, paving or demolition and repair of various buildings, structures, pipe networks, roads, etc. . According to statistics, the annual output of construction waste in 2014 reached 1.5 billion tons. For every new 10,000 m2 building, 400-600 tons of construction waste are produced; for every 10,000 m2 old building is demolished, 5000-7000 tons of construction waste are produced. The construction waste made us suffer from the "garbage siege" while enjoying civilization.

The old city reconstruction, city and road expansion projects are advancing rapidly, and construction waste has caused great harm to the urban environment.
Waste concrete and waste sand pollute water; flying dust and dust will pollute the air; occupy and pollute land; affect city appearance; affect traffic.

Recycling of construction waste turns trash into treasure
Environmental benefits: Utilize modern equipment to treat construction waste nearby to realize recycling instead of traditional construction waste disposal methods such as accumulation and landfill, and reduce pollution to land and rivers.
Economic benefits: The construction waste processed by the mobile crusher can generate recycled aggregates, recycled concrete and various recycled bricks, so as to realize the resource utilization of construction waste.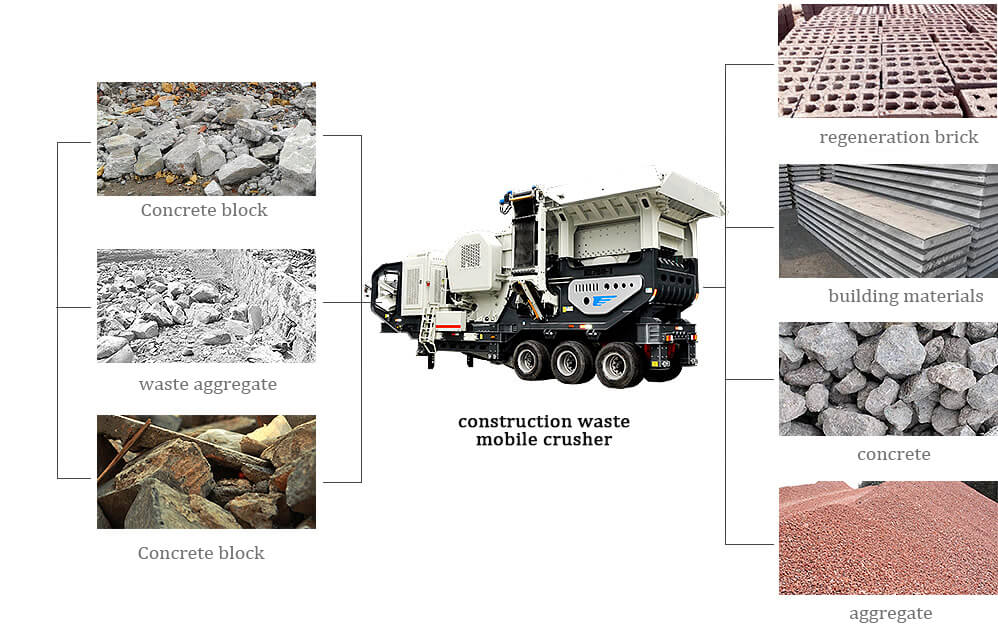 eastman construction waste crusher machine
The mobile construction waste crushing plant is mainly composed of feeder + jaw crusher + impact crusher/cone crusher + sand making machine + vibrating screen and other equipment.
The mobile crusher plant is universal, economical, practical, flexible, and integrated. Fully automatic crushing, conveying, screening, and iron removal.
custom make base on your requirements
1. Coarse Crusher
2. Medium-fine crushing and screening
3. Fine crushing, shaping and screening plant
4. Fine crushing, sand washing plant
1. Coarse Crusher
Coarse Crusher
Main equipment: jaw crusher, impact crusher
Coarse crusher mobile station is equipped with high quality jaw crusher and counter crusher. It has strong crushing capacity and good grain type of finished products. It is especially good at crushing hard and abrasive materials.
Applications: Primary crushing, concrete recycling, construction waste disposal, quarry, coal industry, other industries.
2. Medium-fine crushing and screening
3. Fine crushing, shaping and screening plant
4. Fine crushing, sand washing plant