Andesite Crusher Machine & Crushing Plant
Andesite is named after the Andes Mountains, it is widely spread in the South Americas, with dark gray, gray, gray-brown, reddish, and gray-green colors. It possesses a porphyritic texture. The phenocryst is mainly plagioclase and hornblende. The matrix consists of microcrystalline structure plagioclase and glass, block structure, pores, and almond structure. Anshan Rock's secondary rock is called Andesitic-porphyrite. When andesite changes in the secondary life, the plagioclase often becomes chlorite, epidote, and kaolin stones, losing luster, and turning green.
Andesite has a hard texture, Moh's hardness is 5.5 ~ 6; high-pressure resistance, high acid resistance, and corrosion resistance; However, its surface is porous and rough, with high water absorption, multiple edges, and corners after crushing, and it is difficult to compact, which also has some limitations in its application. The andesite is popular with the construction industry due to its high durability, strong pressure resistance, and high-quality finished products. It can use as a building stone. With the rapid development of the construction industry, the demand for andesite is also increasing.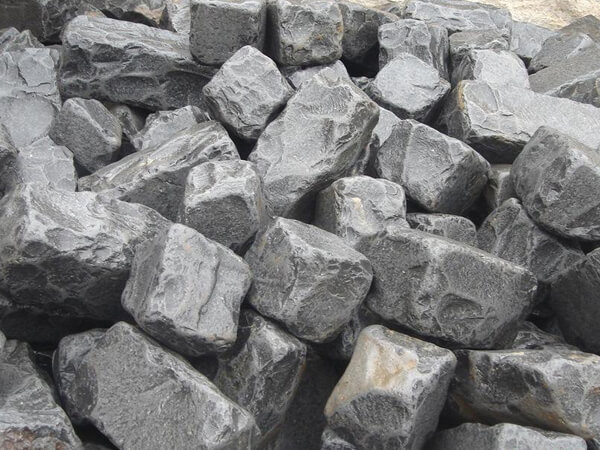 Jaw crusher: it is composed of a fixed jaw plate and a moving jaw plate, using two jaw plates to compress, squeeze and bend materials, which is suitable for coarse or medium crushing of various hard materials. Although the jaw crusher has a poor particle shape and high content of needle-type stone after crushing, many users still like it due to its simple structure, convenient maintenance, and convenient replacement of the crushing plate.
Hammer crusher: Hammer crusher has the advantages of a high crushing rate, uniform discharge particle size, and low energy consumption. However, due to the rapid wear of the hammerhead, the application of hard material crushing is limited; In addition, due to the presence of grates at the bottom happens to blockage, it is not suitable for crushing high humidity and clay materials. This crusher is suitable for crushing brittle materials with medium and low hardness.
Impact crusher: A mechanical device that utilizes the impact of a plate hammer and the rebound of the impact plate to impact and crush materials repeatedly. This machine has a high crushing rate and fully utilizes the high-speed impact energy of the entire rotor. However, due to its easy wear and tear, the application of hard material crushing is also limited by the plate hammer, so we usually use it for crushing brittle materials with medium and low hardness.
Cone crusher: It is suitable for medium and fine stone crushing and is capable of crushing high-hardness materials. Due to the improvement of the crushing chamber, the product particle shape of the multi-cylinder cone crusher has undergone significant changes, and the needle content slowly reduced, making it an ideal piece of equipment for achieving "more breaking and less grinding ".
VSI Crusher(Vertical Shaft Impact Crusher): It adopts the working principles of "stone hit stone" and "stone hit iron" and is suitable for high-standard material requirements. The deep chamber impeller and crushing chamber impact angle are improved, and the material throughput is higher. The finished product particle size is less than 4.7mm, which shows the machine has a shaping effect with good particle shape. At the same time, since it adopts a combined throwing head, we only need to replace the worn parts for reduced usage costs.
Andesite Sand-Making Flow
The production process of andesite sand in the andesite sand production line is a silo – Vibrating feeder – jaw crusher – impact crusher or cone crusher – vibrating screen – finished product.
The crushing process of andesite crushing equipment is an important role, so it is important to select the right stone crusher. Nowadays, there are various crushers: jaw crushers, hammer crushers, impact crushers, cone crushers, roller crushers, sand-making machines, etc. Various crushers have different structures, specifications, and materials. Therefore, we must choose crushing equipment based on the characteristics of the crushing material.
Although different types of crushing equipment apply mechanical force to the material to achieve the purpose of crushing, the crushing methods are different. Such as compression crushing, splitting crushing, breaking and bending crushing, impact crushing, etc. It is precisely because of different crushing methods, the crushing materials and effects vary. For example, due to the jaw crusher using the way of squeeze crushing, the content of needle-like particles in the crushed material is higher.
Features of andesite sand processing Plant
It adopts an intelligent operation mode, making the operation more convenient, highly improving production working efficiency, and making future maintenance and repair more convenient;
Andesite sand production equipment's main parts of the wearing parts are made of wear-resistant materials, which have better wear resistance, are more solid and reliable, and the service life can last 3 to 5 years;
The andesite sand-making effect is remarkable. The machine-made sand is mostly cubic, with less needle flake content, and strong compression resistance. It meets the requirements of standard sand size and has good market prospects;
The andesite sand production line occupies a small working area and has the advantage of small investment costs. The operation is environmentally friendly and energy-saving.
Large crushing ratio, high crushing efficiency, high production capacity, excellent quality of finished materials, and good shape of particle size;
750TPH Andesite Crushing Plant
This setup is a 750TPH andesite crushing plant.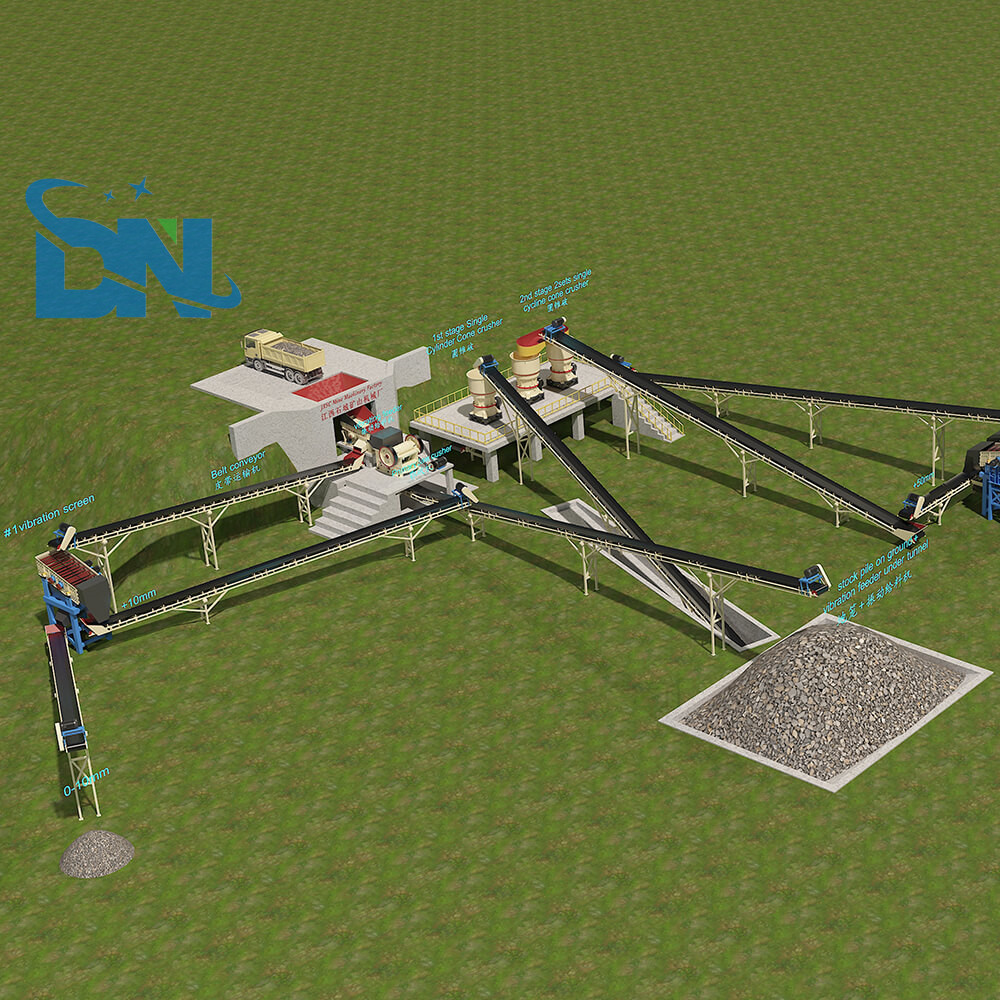 It configures with a vibrating grizzly feeder, the scalping vibrating screen is for screening the materials underneath the grizzly feeder, and the output from the jaw crusher and over-screen materials will enter a tunnel bin via a belt conveyor for temporary storage.
The bin feeder will feed stones from the tunnel bin to the secondary cone crusher, the crushed materials will go to vibrating screens number 1 and number 2 for screening, and the over 50mm materials will return to tertiary cone crushers for re-crushing.
30-50mm materials go to stockpile by a belt conveyor, 0-30mm materials will be processed by vibrating screen number 3 and number 4 to get 0-10mm,10-20mm, and 20-30mm final products.The screen mesh is replaceable to get your ideal final product sizes.
Regarding the capacity for this crushing plant, we accept custom designs, such as 50tph,100tph, 200tph, etc.
The price of the andesite crusher and sand-making equipment depends on the production requirements of the feeding size, discharge size, and production capacity. Welcome to consult Eastman's professional engineers to get factory prices. According to your situation and actual requirement, we will design a complete sand-crushing production line flow chart and provide an accurate quotation.