What Is The Difference Between PE Jaw Crusher And PEX Jaw Crusher?
As the primary crushing equipment for mineral ore(gold, copper, iron, manganese, etc.) crushing, the jaw crusher is often considered the "king of coarse stone crushing", No matter how hard the stone is or how large its size is. Their operating efficiency is also very high. It is a good choice for a stone-crushing plant processing sand or aggregate. In addition to the PE jaw crusher(coarse jaw crusher), which is suitable for crushing large stones, there is also a fine crusher, which is suitable for crushing small stones. This type of jaw crusher is called a "PEX jaw crusher(fine jaw crusher) ". So, what are the differences between a coarse jaw crusher and a fine jaw crusher?

Introduction of PE jaw crusher and PEX jaw crusher
PE Jaw Crusher(Coarse Jaw Crusher)
A PE jaw crusher(coarse jaw crusher) is placed at the primary stone-breaking position of the sand and stone production line. Specifically, it is the primary stone crusher for large stone crushing. Due to its stable operation, high crushing ratio, and low operating cost, the PE Jaw crusher(coarse jaw crusher) is welcomed in many sand-crushing and sand-making production lines. The PE jaw crusher(coarse jaw crusher) is the PE series of jaw crushers. The commonly used models are PE200 × 300, PE200 × 350, PE250 × 400, PE400 × 600, and PE500 × 750, with a production capacity of 1200 tons per hour. Since it is a coarse crushing machine, it is placed at the beginning of the production line and is mainly responsible for the coarse crushing of various sand and stone materials. 
PEX Jaw crusher(Fine Jaw Crusher)
PEX Jaw crusher(Fine Jaw Crusher) is used for secondary crushing in stone production lines. Due to its low price, many people use it as the second crusher instead of a cone crusher impact crusher in the stone or sand production line. PEX Jaw crusher(Fine jaw crusher) is one series of jaw crushers. The commonly used models are PEX150 × 750, PEX250 × 750, PEX250 × 1000, PEX250 × 1200, PEX300 × 1300, with a production capacity range of around 8-105TPH.
The working part of a jaw crusher consists of two jaw plates, one is a fixed jaw plate (fixed jaw), which is vertically (or slightly outwardly inclined at the upper end) fixed to the front wall of the machine body, and the other is a movable jaw plate (movable jaw), which is tilted in position and forms a crushing cavity (working cavity). The movable jaw plate periodically reciprocates against the fixed jaw plate, sometimes separating and sometimes approaching. During separation, the material enters the crushing chamber, and the finished product is discharged from the lower part; When the jaw plate approach, the material placed between the two jaw plates is squeezed, bending, split, and crushed.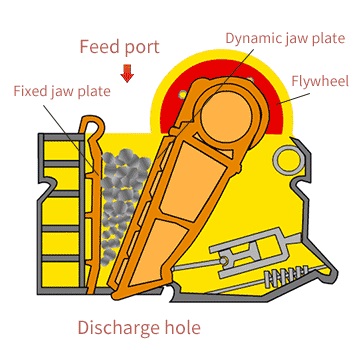 5 differences between PE and PEX jaw crusher
1. Appearance differences
Both the PE jaw crusher and PEX jaw crusher are cube-shaped, but the shape of the PE jaw crusher(coarse jaw crusher) is thin and high, while the appearance of the PEX jaw crusher(fine jaw crusher) is short and wide, and the corresponding dimensions of each component are different.
Although both are jaw crushers, with small differences in structure, the jaw plate with a PEX jaw crusher(fine jaw crusher) has more dense teeth, so compared to a PE jaw crusher(coarse jaw crusher), it can break the rock ore into smaller particles.
3. Different feeding particle sizes, output sizes, and discharge size
The feeding particle size of the PEX jaw crusher(fine jaw crusher) is within 250mm, and the discharge particle size adjustable range is between 18-90mm. The discharge particle size is small, with a large crushing ratio, so the finished sand product can be directly used in the infrastructure industry;
The feeding particle size of the PE jaw crusher(coarse jaw crusher) can reach 1200mm, and the discharge particle size is adjustable between 10-400mm. There will need a secondary crusher machine after it, for example, a PEX jaw crusher, cone crusher, impact crusher, etc.
4. Different production capacity
There are fewer models of  PEX jaw crusher(fine jaw crusher). Due to the relatively fine particle size of materials, the crushing time is relatively long, so the production capacity is also relatively low, with an hourly production range of about 8-105 tons; 
The production efficiency of the PEX jaw crusher(coarse jaw crusher) is high, so its output size is also large, and there are more than ten models,  The production capacity for large models of coarse jaw crushers can reach 1200 TPH.
PEX jaw crusher(Fine jaw crusher) applies to the secondary crushing process, mainly used for fine crushing processing after coarse crushing with a feed particle size of no more than 250mm. It is widely used in metallurgy, mining, cement, and other industries;
PE jaw crusher(Coarse jaw crusher) is generally used in the production process of stone crushing for primary crushing, which is the first step of crushing. The feed particle size needs to be lower than 1200mm.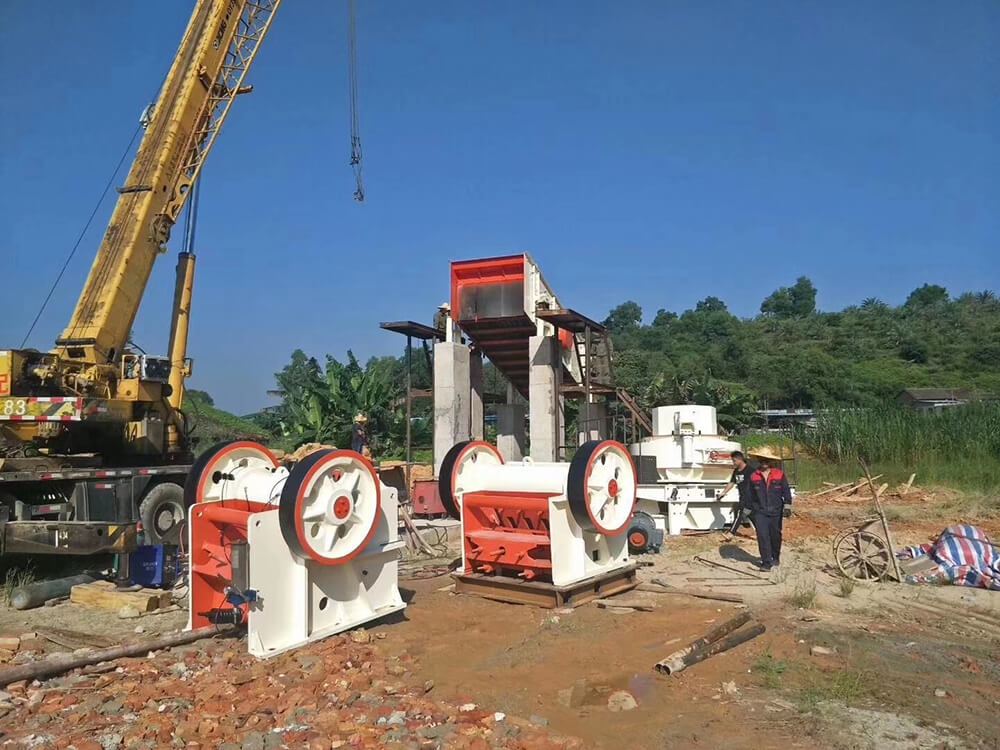 Advantages of PE and PEX jaw crusher
Advantages of PE jaw crusher
1 . High rigidity of overall structural and good stability
The structural improvement of jaw crushers and the selection of materials with high rigidity are the keys to achieving better applications. It has great significance for practical production applications. This advantage is not available for all types of jaw crushers, so it is necessary to choose the suitable machine based on the requirement of production applications. It provides us with more information for selecting utility equipment.
2. Superior crushing ratio with large and uniform particle size
Another advantage comparison of crusher products is the ability to receive large-capacity feeding material. The feeding granularity of this crusher product is relatively large, so during the crushing process, it is possible to get a more balanced granularity, and it is also possible to achieve a better operational effect for crushing. It also allows practical production applications to achieve better results, while ensuring the crushing strength and improving the crushing ratio.
3. Simple structure and low operating cost
The selection of crushing equipment focuses on new types. Among them, the new jaw crusher has a simple structure and lower operating costs, which realize the goal of providing excellent service for production applications. It is also a good choice for reducing investment costs and improving efficiency in terms of operation and production.
Advantages of PEX jaw crusher
1, The machine has a simple structure, and it is very convenient for operation and maintenance. While improving production capacity, the PEX jaw crusher will not meet problems during operation, and the maintenance is easy, reducing downtime and maintenance time.
2, It is quiet and has low working noise. Currently, it is very strict with environmental protection. This equipment is designed strictly with national environmental standards, meeting international requirements, and equipped with matching dust removal equipment to reduce environmental pollution.
3, Low cost. When you compare a jaw crusher with other rock crusher machines, you will find it is a cost-effective option. It is designed to provide good performance, protect the main parts, and extend the service life.
To sum up, PE jaw crushers (coarse jaw crushers) and PEX jaw crushers (fine jaw crushers) belong to jaw crushers. It is an early emerging gravel equipment in the mining machine industry. Through continuous development and improvement, many new series of the crushing equipment has been produced, which are more targeted and meet the production needs of different users, bringing immeasurable value, and being an indispensable good helper in the mining crushing construction industry. When choosing a jaw crusher, we should consider the raw material type, input size, final product, and capacity requirement. Eastman Technology has a technical team to provide pre-sale and after-sale services. Welcome to inquiry, and get professional advice for the mineral processing plant and sand-making plant design and quotation!