Getting To Know The Complete Set Stone Crushing Plant
The stone crushing plant is mainly composed of a vibrating feeder, jaw crusher, impact crusher, cone crusher, vibrating screen, belt conveyor, a centralized electrical control cabinet, and other auxiliary equipment; there are fixed stone crushing plant and mobile crushing plant. Generally the production capacity is designed to be 50-500 tons/hour. To meet the different processing needs of customers, it will work with a cone crusher and dust removal equipment together if it is a dry process. It is suitable for the aggregate and artificial sand-making operations of hard limestone, granite, basalt, river pebble, metallurgical residue, and other materials. The stone crushing plant output material is widely used in hydropower, building materials, highways, urban construction, and other industries. According to different process requirements, various types of stone crushing equipment are combined in the stone-crushing plant to meet requirements of customers.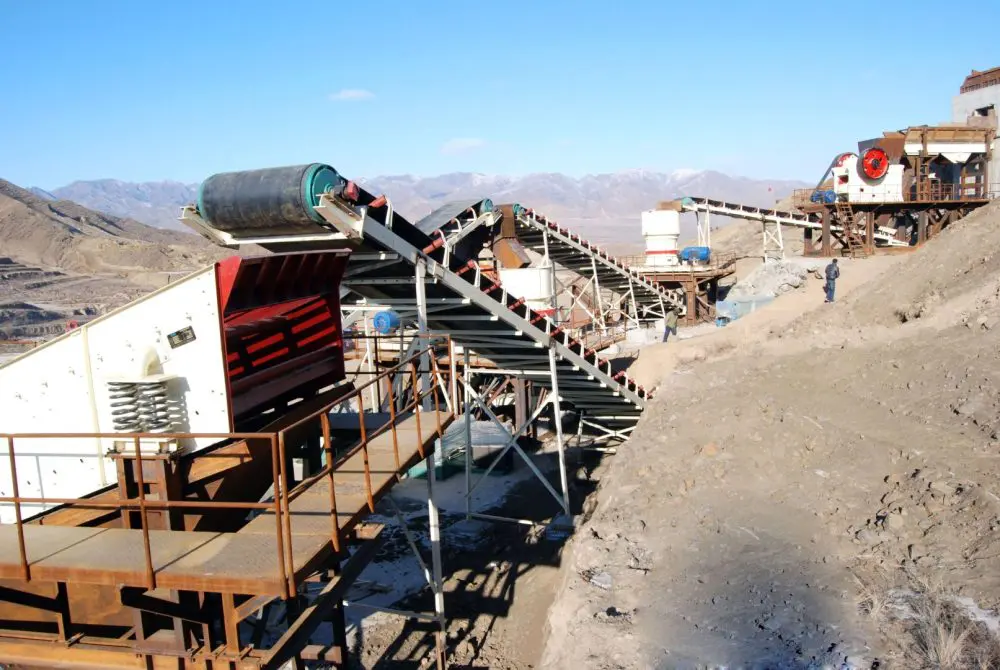 The stone crushing plant is a combination of a sand production line and an aggregate quarry production line. It can meet the requirement for producing both quarry and sand at the same time. A complete set of equipment for sand and quarry production lines is a combination of various feeding, crushing, screening and transporting equipment. It can make all kinds of rocks, ores, limestone, basalt, granite, pebbles, and river pebbles into various sizes of sand and stones for construction with uniform size, regular shape, high strength, far more in line with the construction requirements than natural sand, and also improve the quality of construction aggregate.
The complete set of sand and stone production line equipment produced by Eastman has the characteristics of low investment, high output, reliable performance, reasonable design, convenient operation, high working efficiency, large processing capacity, output material shape are cubic, low content of needle powder, no internal cracks, and high compressive strength. The most important thing is that it is easier to do maintenance. The wearing parts are made of the latest high-strength wear-resistant materials in China, with small losses and long service life, which can bring considerable economic benefits to customers.
2. Process Of Stone Crushing Plant
The process of the stone crushing plant is rough: (warehouse) —- Vibrating feeder-jaw crusher —- impact crusher —- circular vibrating screen —- sand making machine —- The sand washing machine-fine sand recycling machine —-Final product. All the equipment will be connected by several belt conveyors. The finished sandstone gravel will gradually screened from behind the circular vibrating screen.
Introduction
The big stone ore will go into the jaw crusher for coarse crushing to get coarse material, which sent to the belt conveyor to transfer the coarse material from the jaw crusher to the impact crusher for second fine crushing and get shaped fine material. Then the vibrating screen screens the materials to get the finished product, which meets the granularity requirements of customers. These screened sand or aggregate transport to the finished product area (quarry stone) or the wheel sand washing machine for cleaning. The dewatering screen machine at the end is used for recycling fine sand (the recovery rate can reach more than 90%), and the recovered fine sand  transport to the finished area through several belt conveyors; Those final products are not meet the requirement (large pieces) will be returned to the sand making machine for reprocessing to form a closed -circuit cycle. The granularity of the finished product can be combined and classified according to the customer's requirement. If we choose a drying method, it will need a thick and thin powder separator and dust removal equipment.
3. 50-100 Tph Stone Crushing Plant
This flow chart is suitable for processing cobblestone, granite, basalt, and hard rock sand-making lines, the capacity reaches 50tph-100tph.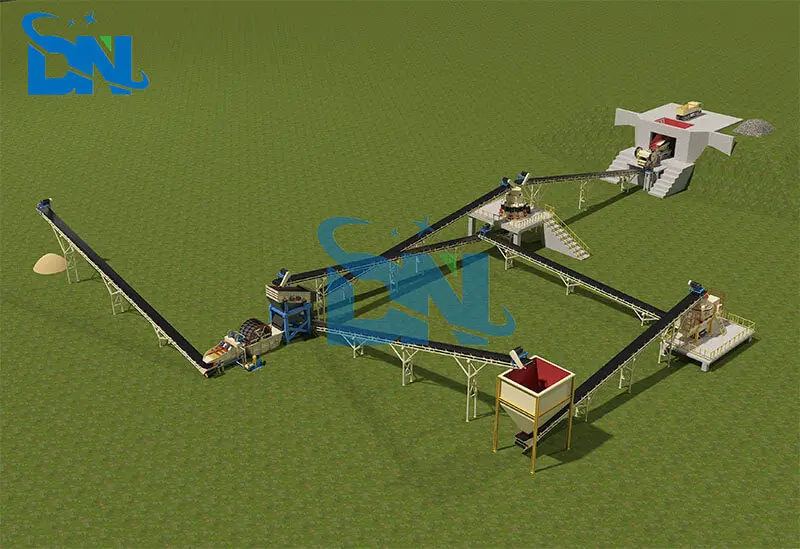 Introduction
For the 100tph stone crushing plant, the truck transfers the original stone with input size under 500mm into vibrating feeder 380*96, and it transfers the stones to jaw crusher PE 600*900, after first crushing the material gets 65-180mm size, and then it goes to second crushing cone crusher 1200, the output (16-40mm) of cone crusher transfer to vibrating screen by belt conveyor.
It requires a big capacity vibrating screen, cause the output of sand making machine also transfer to vibrating screen, the model for it is YD2160 (capacity around 200tph), then gets an output of 0-5mm, and size over 5 mm will transfer to sand making machine(double motor 250kw) to get 5mm or 6 mm output, Here it needs a silo to serve as a buffer. The role of the silo is to feed the sand-making machine evenly and satisfactorily so that the sand-making machine stays saturated for a long time. After the sand-making machine is finished, the output enters the vibrating screen which forms a closed loop, so that each of our final products can be 5 mm, or less than 6 mm for the sand.

After the sand comes out, it is the wheel sand washing equipment. The sand washing equipment can be a wheel sand washing machine, two set wheel sand washing machine, or a spiral sand washing machine. It comes out after washing the sand. It is dehydration, a dewatering screen. If we need to recover fine sand, then fine sand recovery is the cooperation of slurry and hydro cyclone. This is optional for us.

There is a set of sand washing machines In this picture, the quantity for the sand washing machine is decided by the raw material with much dust clay or not, this stone sand making line can also equip with a spiral sand washing machine and two sets of wheel sand washer after, So what we see here is a rough process layout. Our engineer will provide solutions to you according to your actual requirement.
4. The Advantages Of Stone Crushing Plant
High-efficiency, energy saving, and environmental. The stone crushing plant is highly automated with advantages of low operating cost, high crushing rate, energy saving, large output capacity, small pollution, and easy maintenance.
High degree of automation. Except for the opening and stopping, feeding, and daily maintenance of the equipment, there is barely require for manual operation. It has high production efficiency, low operating cost, large output capacity, high yield, uniform grain size of finished stones, and good granular shapes that meet the requirements of national high-speed materials.
Simple operation. In the design process, due to this equipment's reasonable matching with each other with rigorous space cross layout, it has the characteristics of small land space, high investment in economic benefits, good quality of sand and gravel, and low output rate of fine powder. At the same time, it is equipped with an advanced electronic control operating system to ensure that the entire process is reliable, convenient to operate, efficient, and energy-saving, And the material unblocked.
Humanized craftsmanship. There are many types of sand and gravel production lines and models produced by our company, and these models can configure with appropriate models according to customer's requirements with different technical requirements.
We can provide both fixed stone crushing plants and mobile crushing plants. If you need a complete stone crushing plant, welcome to inquire with Eastman's professional engineers to get the factory price. According to your actual requirement, we will design a complete stone-crushing plant flow chart, and give you an accurate quotation .