Exhibition Overview
"2020 China (Jiangxi) International Exhibition on Sandstone and Tailings and Construction Waste Disposal Technology and Equipment" was established in response to the active advocacy of manufacturers in the industry and market demand, and is also a strong desire to comply with exhibitors and visitors. The exhibition will integrate construction waste treatment equipment, sand making equipment, crushing equipment, concrete, mortar, prefabricated residential construction, and upstream and downstream of the entire construction industry and a complete industry chain. It will focus on exhibiting advanced sand and gravel equipment and technology at home and abroad. The stone industry builds a platform for technical equipment cooperation and exchange, provides new ideas and new impetus for the mechanical sand machinery industry and provides a new channel for the promotion of excellent products and scientific and technological achievements in the industry.
Organizer
Organizing Committee of Jiangxi International Sandstone and Tailings and Construction Waste Disposal Technology and Equipment Exhibition
Beijing Global North International Exhibition Co., Ltd.
Nanchang Reed Exhibition Co., Ltd.
Official site: http://www.csde-expo.com/
Schedule
Exhibition time: June 20-22, 2020
Exhibition location: Nanchang Greenland International Expo Center
Preparation for the exhibition: June 18-19, 2020
Withdrawal: June 22, 2020, 17:00
Exhibits
Construction waste treatment equipment: mobile crushing station, construction waste crusher, construction waste crusher, crawler mobile crushing station, tire mobile crushing station, fixed construction waste treatment equipment, construction waste brick making machine and other construction waste treatment equipment And solutions;
Feeding and screening equipment: circular vibrating screen, linear vibrating screen, vibrating feeder, impeller feeder, disc feeder, reciprocating feeder, wave roller feeder, screening feed New feeding and screening equipment such as feeder and plate feeder;
Sand making equipment: sand making machine, sand washing machine, crusher, vibrating screen, vibrating feeder, etc.; aggregates recycling block series production and manufacturing equipment, etc.
Crushing equipment: compound crusher, gyratory crusher, cone crusher, impact crusher, impact crusher, roller crusher, hammer crusher, jaw crusher, crushing hammer, crushed stone Machine, crushed stone production line, sand production line, new crusher;
Supporting parts and auxiliary parts: welding rod, tooth plate, side guard plate, lining plate, wear parts, gears, bearings, reducer, ball mill, rod mill lining plate, milling machine accessories, moving jaw, eccentric shaft, frame And other spare parts, cone-breaking spare parts, mechanical equipment spare parts, breaker accessories;
Mine mining and transportation equipment: rock drills, forklifts, loaders, excavators, mine cars, etc.;
Other mining technologies, auxiliary machinery and equipment, and related mining service organizations.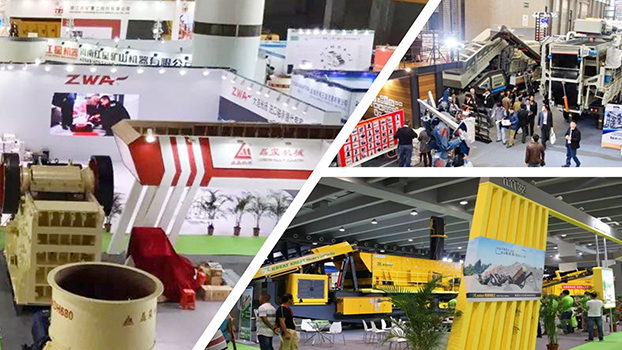 Thematic forum part
Promote international exchanges and cooperation, share the development achievements of the gravel aggregates and equipment industry, and discuss the development trend of the national gravel aggregates industry, including green environmental protection innovation technologies and equipment, new sand making technologies, and new mining technologies, New blasting technology, and safe production, etc., ecology and comprehensive utilization, feed transportation equipment, mining and transportation equipment; construction waste utilization technology; construction material pollutant treatment technology; automatic intelligent control technology; development of automation equipment and energy-saving construction applications, etc.
special note:
The report of the conference is not free, and the intended fee starts from 10,000 yuan and the duration will be 40 minutes.
In order to ensure the high-end requirements of the forum, sponsors of this item must first submit an application and be determined by the forum leader after review.
Sources of specially invited buyers/exhibitors
1. Invite nearly 50 government agencies and industry associations from Guangdong, Guangxi, Yunnan, Guizhou, Hunan, Jiangxi, Fujian, Zhejiang, Shanghai, Sichuan, Hubei, Anhui, and Jiangsu, and 5000 professional merchants-from highway transportation and rail Transportation, bridge engineering, water conservancy engineering, electric power engineering, urban construction, municipal engineering, building materials, real estate development, mining, etc.;
2. Guangdong, Guangxi, Yunnan, Guizhou, Hunan, Jiangxi, Fujian, Zhejiang, Shanghai, Sichuan, Hubei, Anhui, Jiangsu Province, and more than 5000 quarries plants.
3. More than 500 infrastructure construction enterprises-China Railway No. 1 Bureau, China Railway No. 2 Bureau, China Railway No. 21 Bureau, China Road, and Bridge Engineering Company, China Construction Engineering Corporation, China Communications Construction Group, China Water Conservancy and Hydropower Construction Group, China Railway Construction Co., Ltd., China Electric Power Construction Hydropower Development Group, Beijing Zhengluqiao, Huaibei Mining (Group), China Metallurgical Tiangong Group, Zhongxing Construction, Beijing Construction Engineering Group, Beijing International Construction, Beijing Housing Corporation, Beijing Urban and Rural Construction Group, Zhongcheng Investment Group, China Construction First Bureau (Group), China Railway Construction Group, China Construction Third Bureau, etc.;
4. More than 300 urban construction companies-China Urban Construction Holding Group, China Railway Construction, Jiangxi Urban Construction, Guangxi Urban Construction, Hunan Urban Construction, Fujian Urban Construction, Yunnan Urban Construction, Sichuan Urban Construction, Wuhan Urban Investment, Zhengzhou Urban Construction, Guizhou Urban Construction, etc.;
5. Leaders of relevant competent ministries and commissions in China; leaders and relevant personnel of relevant government departments of various provinces and cities;
6. Member unit of China Sandstone Association, member of expert committee, experts and scholars of sandstone industry;
7. Research and design institutes, colleges and universities, relevant association personnel;
8. Sandstone aggregate production enterprises, equipment enterprises, waste stone, tailings construction solid waste disposal and recycling, environmental protection permeable bricks, sponge city construction and other related personnel;
9. Relevant personnel in the upstream and downstream industrial chains of gravel aggregates such as mine mining, concrete production and infrastructure construction.